Best Horror Movies 2020 + Best Dark Cinema Movies
2020 has been excruciating for some cinephiles. Not for Mother of Movies though. Despite all the delays and cinema closures, I have been lucky enough to see a wealth of fantastic horror, thriller, and grimly dark movies this year. Without further adieu, here are the best ever top 45 movies to the tune of horror and thriller for 2020.
Of course, almost everything in these lists is fully reviewed on the Mother of Movies website. Use the search bar to find what you're looking for. For the 2020 best movies list, I have added some additional sections to the end of this list: Disappointments, Special Mentions: Drama, Comedy and War Genre, and the Mother of Movies Watchlist.
What's in a Release Date?
Confused about the release dates noted in movie databases? Me too. But titles are generally dated from the time it hits a film festival and not as a general public release in most cases. Therefore, if you think an amazing film is missing from this best-of list, please check the previous year's BEST THRILLERS 2019. Mother of Movies attends virtual film festivals all over the world and is often able to get pre-released movies.
Best Horror and Thriller Movies of 2020 + Dark Cinema
45. #Alive
A cute and unremarkable South Korean zombie horror movie. In a similar vein to I Am a Hero, #Alive is the type of film you can watch with non-horror fans. Light on gore and filled with great-looking undead. The final quarter was pretty cool and if the lead character Joon-woo (Yoo Ah-in) doesn't annoy you too much with his overdramatic antics, there is enjoyment to be found here. Stream it on Netflix.
44. Impetigore
Indonesian writer and director Joko Anwar is best known for Satan's Slaves. The Impetigore foreign film is streaming on Shudder in most regions. What I loved about this violent and gore-laden horror movie is the nods to lots of other horror movie greats like Hostel, Texas Chainsaw Massacre. Impetigore movie is creepy, atmospheric, and performed well. The story is engaging and filled with plenty of twists and shocks along the way.
43. 12 Hour Shift
If you're going to watch 12 Hour Shift, do it for performances from Angela Bettis and David Arquette. The score for the comedy horror and thriller film is a contemporary upbeat selection that moves the story along at a frenetic pace. What it lacks is more characters with common sense and likability. Inspired by a number of real events in the 90s', the film is a pleasant time-passer that never quite lifts to where it wanted to go. Written and directed by Brea Grant, the film is produced by HCT Media. Available to rent or stream in the USA with Spectrum on Demand.
42. Becky
Directed by Jonathan Milott and Cary Murnion
Written by Nick Morris, Ruckus Skye, and Lane Skye.
Lulu Wilson plays Becky and she is just fabulous in her role and an almost twisted female version of Kevin from Home Alone. Don't be fooled by Becky's outside shell however, she is vicious and cunning in the face of a group of white supremacist convicts. Led by Kevin James as Dominik, I loved his mean character change when he's usually a roly-poly comic. Becky is available on digital platforms to buy or rent. Personally, I'd love to see a sequel for this thriller and action film.
41. The Platform
Another world cinema title, this time from Spain, The Platform exploded the internet with chatter about what it all means. The science-fiction-laden horror film has themes of consumerism, society, and power smashed into a film about a vertical self-management center. Visually epic, the nightmarish scenes follow a platform of food that moves between hundred of levels once per day. Written by David Desola and Pedro Rivero "The Platform" dropped onto Netflix in most countries. Directed by Galder Gaztelu-Urrutia.
40. Possessor
Brandon Cronenberg wrote and directed Possessor and the film has been loved by many. An amazing cast flourishes within the horror, thriller, and sci-fi-infused story about a company specializing in brain implant technology. Clients pay for a corporate agent to perform assassinations by inhabiting the mind and body of an external source. Outstanding performances from Andrea Riseborough, Christopher Abbott, and Jennifer Jason Leigh. Rent it cheapest on Amazon. For Mother of Movies, the concept was good, but I enjoyed it more in the indie film Empathy Inc.
39. M.O.M Mothers of Monsters
M.O.M. Mothers of Monsters is streaming free in the USA on TubiTV. It's also listed on Prime Video in the USA and AU. A POV-style horror movie that follows a mother who thinks her son is gearing up to do a school shooting. Writer and director Tucia Lyman's directorial feature film debut is executed with enough grit to hold your interest. An excellent movie considering the budget restrictions. The casting was also great.
38. Follow Me Movie – Best Escape Room Horror
Sorry but I know this is just another escape room movie. Yes, there are just too many escape room movies. But as someone who has a slight addiction to this setting, Follow Me is one of the best ones. Follow Me movies' writer and director Will Wenick must also have a thing for this setup because he has actually done another film set in an escape room. Sure it's generic and it's certainly not a game-changer but the finale and pacing were exciting and I really enjoyed it. Don't hate me, hate the game. Available to rent or buy.
37. Uncle Peckerhead
Here at Mother of Movies, there is a tendency to emphatically hate comedy horror or enthusiastically adore it. Uncle Peckerhead is a silly idea with a likable monster and that's what sets it apart. A punk rock band down on their luck and looking for their big break, hook up with Peckerhead simply because he's got a van they can use. Turns out this friendly hillbilly becomes a demon from time to time. Handy at first, Peckerhead becomes troublesome and there's no easy way to get him to disembark from the tour. An enjoyable and fun film by Matthew John Lawrence. After a directorial debut like this, let's hope for more films from him soon. Epic Pictures picked this one up for distribution and you can find it to watch on Amazon Prime in the USA.
36. Bullets of Justice
Similar to the previous horror and comedy storyline, Bullets of Justice is the most absurd film I've seen since Velocipastor. It's silly, its got bad CGI and some terribly crude humor but we love it anyway. Starring Danny Trejo for a moment or two, Rob Justice needs to save the world. To do this he must locate the main headquarters for the bacon army, a society of soldiers made by inbreeding humans and pigs. The story is the glue that holds this thing together and there are enough one-liners to churn out you'll be laughing for days. If you give this one a chance, I can't promise you a good time but I can promise you there is more to this than you expect. Available to rent or buy.
Written and directed by: Valeri Milev and co-writer Timur Turisbekov. Distributed by The Horror Collective.
35. The Mortuary Collection Anthology Collection
The Mortuary Collection is the best horror anthology I've seen for a while. It premiered on the Shudder platform and stars Clancy Brown as the obligatory mortician Mongomery Dark. Writer and director Ryan Spindell (The Babysitter Murders) does an outstanding job here with his collection of superbly dark tales. The wraparound is well executed and there are certainly many anthology horror movies worse than this.
34. Bloodthirsty
Amelia Moses has hit the ground running since her directorial debut featured further up this horror movie best-of list. Bloodthirsty is a story about a werewolf set in modern times and doubles down with some exceptional transitions. Atmospheric and engaging there is a lot to like about Bloodthirsty, especially with the inclusion of Lauren Beatty who is superb in both of Moses's films. The subtext about what fame does to people is a credit to the storyline. Distribution is yet to be announced, so keep an eye on the Mother of Movies Facebook page for announcements.
33. Kindred
Labeled by some as generic and too much like Rosemary's Baby, Kindred follows Charlotte as she comes to grip with her boyfriend's sudden death. More of a drama-heavy thriller than much of a horror movie, Kindred excels in the excellence of its cast. Of particular note are the performances from Tamara Lawrance, Fiona Shaw, and Jack Lowden as the three get caught up trying to take ownership of the baby Charlotte is carrying. Distributed by IFC Midnight, the movie is available on IFC's new streaming platform, IFC Films Unlimited, and Spectrum on Demand in the USA. A feature film directorial debut by Joe Marcantonio and co-writer Jason McColgen.
32. Rent-A-Pal
IFC Midnight kicked some goals with Mother of Movies in 2020 and Rent-A-Pal proved the label knows what it's doing. Jon Stevenson's directorial debut follows David played by the enthusiastically personable Brian Landis Folkins. It's 1990 and Andy hates his life. He begins looking for that special someone through a video dating service and proves that friendship comes in many forms when he picks up a VHS. Andy (Wil Wheaton), the guy on the tape, promises to be his best friend ever. Sometimes friendship has a price to pay and David discovers this in more ways than one. The final quarter is a supercharged climatic surprise you won't be expecting.
31. Marionette
Love movies like The Butterfly Effect or stories about predicting the future and what that might mean if there was a way to do it. Marionette, also called Repression has wonderful performances from both the lead and supporting cast. The young boy Manny, played by Elijah Wolf is a perfectly even portrayal of a creepy kid with his creepy drawings being creepy. Dr. Marianne Winter gets more than she bargained for with her new troubled client and he slowly takes over her life in a mysterious and sci-fi inflected narrative that will mostly keep you guessing. Director: Elbert van Strien Writers: Ben Hopkins, Elbert van Strien Stars: Peter Mullan, Thekla Reuten, Bill Paterson. Picked up by distributors Signature Entertainment and available on DVD.
30. Z
Writer and director Brandon Christensen team up with co-writer Colin Minihan with a story about a little boy with a very scary imaginary friend. What I love about all things Minihan is that he turns the generic stories we've seen before and adds his own superb twist. Here in "Z", it's no different and besides, there is the normal parenting foible's which are always annoying, the final quarter of this film gave it an edge that I liked a lot. Z movie is available on Shudder.
29. The Dark and the Wicked
Bryan Bertino (The Strangers) is no stranger to atmospheric tension. In The Dark and the Wicked, he takes a remote and secluded farm, a dying man, and a family in mourning and has them contend with evil forces. Similar to The Wind this supernatural horror movie about a spirit taking over a specific location is more of a mood piece that wants you to feel the eeriness rather than spend time explaining it. This is one of the best new horror movies to come out in a long time. See it on Shudder from RJLE Films.
28. Anything For Jackson
Possession Best Horror
A unique and quirky horror movie about trying to bring back the soul of a young boy by kidnapping a pregnant woman. Nothing unique about that you say? Well, what if I told you the kidnappers were his grandparents and turned to Satan worshipping to complete the deal with the devil? Sheila McCarthy and Julian Richings are charming as two grieving parents trying to hold on to the last memory of their daughter. Produced by Vortex Productions and streaming on Shudder, Anything For Jackson is a delightful independent horror movie by Justin G. Dyck and writer Keith Cooper.
27. Shirley Movie
Elizabeth Moss is proving to be quite the performance butterfly of great roles. Shirley is inspired by real events surrounding horror author Shirley Jackson. An extremely quiet slow burn of a movie, Shirley and her husband Stanley take in borders, Fred and Rose. The literary dominator quickly becomes inspired to write as Rose becomes embroiled in the seeming madness of her love of a good story. Josephine Decker is copping some flack from a few critics about zeroing in on Jacksons' apparent madness while admonishing the desire to tell more of a real-life tale. Instead, the dark thriller barely illuminates anything except this character's ability to manipulate those around her. In any case, I liked it.
26. Come True
A film that gets better the more you think about it, Come True is by Anthony Scott Burns and involves a teenage runaway and a sleep study experiment. As Sarah's nightmares become more and more frightening. Reminded me a little of Stranger Things mashed against the Netflix TV series "I Am Not Okay With This." Compared with Burns' previous film (In the Tall Grass) the story is much more entertaining. Some amazing dark and scary imagery are included here and although it's a little inconsistent in places, a very good film. Screenplay by Anthony Scott Burns and story by Daniel Weissenberger. Distributed by IFC Midnight, the public release date is set for 2021, on March 12th.
25. The Five Rules of Success
The Five Rules of Success is directed by Orson Oblowitz whose previous horror gorefest Trespaasers did not impress Mother Of Movies. With no public distribution announcement yet, this story is excruciatingly deep and filled with fabulous well thought out shots. Produced by Ambassador Film Group Santiago Segura plays a freshly released convict called X. The narrative tells the simplistic tale of a guy from the wrong side of the tracks trying to right his wrongs and never fully being able to escape the clutches of his past. A sonnet to a society that never lets you forget, this was a dark and tangled look at one man's journey trying to escape his demons.
24. Sputnik Space Movie
A Russian title by Egor Abramenko and written by Oleg Malovichko and Andrey Zolotarev set during the time of the Cold War. A Soviet spaceship crashes and when it returns there is only one survivor. The problem is he has amnesia. Put into quarantine in a secret testing site, the government assigns a psychiatrist to jog his fuzzy memory. Of course, there's something inside this Russian. A visually appealing monster flick that ticked all my boxes as far as being tense and exciting while never really doing too much to veer off the path we all know it's following. See it as a digital rental or buy it to keep through Amazon.
23. A Creepshow Animated Special
Yes, it's a Creepshow special streaming on Amazon, and yes is also animated, but it's great and stars Kiefer Sutherland, Fayna Sanchez, and Joey King. Two short stories: Survivor Type, and Circus of the Dead from showrunner Greg Nicotero. This special feature has mixed reviews mostly based on the face of its drawings and not fancy pants animation but I still loved it for its gruesome retelling of two great dark and interesting tales.
Best Horror and Thriller Movies of 2020 + Dark Cinema
4 Stars Out Of 5

22. The Devil All The Time
Antonio Campos directed the awesome TV series The Sinner. The Devil All the Time has additional writing from Donald Ray Pollock and Paulo Campos. And the writing is razor shard and detail-specific. Yes, it's miserable and depressing and tackles themes and topics that flit across the storyline without pausing to reflect. In all honesty, I don't want to reflect during the film. I want a film to stick in my mind's eye and have it mean something when I'm reminded of it at another moment. The cast is phenomenal, the violence and betrayal reflect that life is not always nice for all walks of life. Stream The Devil All the Time on Netflix.
21. She Never Died
He Never Dies starring Henry Rollins is a hidden gem with a pretty solid cult following. She Never Died marks the second installment in what is designed to be a trilogy of films set in the same universe where immortal gods seek out the darkest in humanity to feed their voracious hunger. Here Lacey tracks the whereabouts of a missing girl vowing revenge on those responsible. Directed by Audrey Cummings, this has mostly gone under the radar or most aren't aware of a sister film to He Never Died. Written by Jason Krawczyk and Olunike Adeliyi as Lacey, it's a superb story meant simply to entertain. Stream it on TubiTV free in the USA and Prime Video in the UK.
20. The Other Lamb
The Other Lamb was about as well-received as flies at a BBQ for some fans of mystery cult horror. It's true there is not a lot of dialogue and there certainly are many very humorous reviews around pointing out the messiah and cult leaders' use of putting his fingers in young women's mouths from time to time. However, the cinematography is striking, and the way the quietness and the slow-moving story float the idea of control and how those inside a bubble can still rise up against the only things they know is beautifully disturbing. The sound design was immaculately produced to create an atmosphere that builds tension when you can't see it. A directorial debut by Małgorzata Szumowska and written by Catherine S. McMullen.
"his attention is like the sun. it's bright and glorious at first. but then it just… burns"

Quote from The Other Lamb
Watch "The Other Lamb" on Mubi in the UK, Hulu in the USA. Distributed by IFC Films.
19. 1BR
1BR follows Sarah, looking for a fresh start and a new place to live. Thinking she's found the perfect apartment, with friendly neighbors and a helpful landlord she enthusiastically moves in. Before long, noises in the middle of the night and one creepy tennent trying to make her leave and force her to rethink the whole moving to L.A. thing. But is it too late to give notice and simply move on? Streaming on Netflix, 1BR successfully treads where many movies had trod before. There are great tense build-ups and excellent performances with some nicely added horror world-building to sink your teeth into. Stream 1BR on Netflix.
18. What Lies Below, Science Fiction Best Horror
Has "What Lies Below" been done before? Yes. Does the ending kind of let the film down? Also yes. But the tension and atmosphere are palpable and the ensuing story is well thought out, well-paced and enjoyable to watch. Braden R. Duemmler's directorial debut is a solid thriller and mystery movie that begins by pretending it's not what it eventually turns out to be. Wonderful neon coloring, dark red hues, and a sinister good-looking antagonist. A popcorn thriller, if you will, is every bit as entertaining as other movies like it.
17. The Block Island Sound
"The Block Island Sound" is a science fiction and horror movie set in a coastal water town. Fishermen are behaving oddly and one, in particular, has become violent. Writer-directors Kevin and Matthew McManus built a thrilling and nail-biting atmosphere where a man called Tom unwittingly becomes host to something otherwordly. There is some tenuous imagery that will cause the hairs on your arms to stand up. Produced by 30 Bones Cinema (13 and 14 Cameras) no distributor announcement has been made, but keep an eye on the Mother of Movies Facebook page for a press release announcement soon.
16. Spiral Movie
"Spiral" premiered on the Shudder platform and has gone widely unnoticed. The production team was what caught my eye with Colin Minihan and Brandon Christensen amongst the names listed, I was all over this mystery horror and thriller film. The film does have a certain Jordan Peele flavor to it but that doesn't make it lose points where I'm concerned. The performances are breathtaking from leads Jeffrey Bowyer-Chapman (Grave Encounters 2, you guys!) and Ari Cohen (It 1 and 2.) The premise builds on the anticipation of knowing 100% something bad is happening and waiting to see what that might be. The story follows a same-sex couple as they move to a small town and discover the neighbors are weird, to say the least. Directed by Kurtis David Harder and written by Colin Minihan and John Poliquin.
15. The Columnist
The Columnist comes from the Netherlands as a Dutch language ode to taking down your online enemies one troll at a time. Femke Boot is a columnist who can't stop reading the vile and vicious comments of her readers. A fun and bloody revenge tale about just wanting everyone to be nice to each other or to keep your mouth shut. Femke wants to silence her critics permanently and I loved every second of it.
Directed by Ivo van Aart's which is his third feature film and written by Daan Windhorst. As a side note, the French title equivalent is quite a derogatory term in English, Google kept flagging it when I unknowingly included it in the full review. This wonderful light-hearted comedy and crime, drama film only has a Dutch distributor, but I will alert everyone I can when it gets a wide release.
14. The Invisible Man
Elizabeth Moss plays Celia VS the Invisible Man who is an allegory for toxic behavior in society. To say The Invisible Man movie is tense, really doesn't encapsulate the edge-of-your-seat plot mechanics that make this one of the best horror films of 2020. James Whannel is an exciting and high-energy filmmaker who dishes out quite a number of jump scares that had a friend of mine laughing when I literally spilled my popcorn at the cinema. There are excellent fight scenes between Celia and The Invisible Man and the writing is as smartly cohesive as everything else in this great movie. Produced and distributed by Universal Pictures.
Stream it on Binge, Foxtel, and Prime in Au. HBO and, Direct TV has it in the USA. Watch the Invisible Man on Now TV in the UK.
13. Host
Mother of Movies likes found footage. The Host had me leave the lights on until well into the night, I messaged a bunch of people in different timezones to keep me company and I was scared of the fact my blinds were moving without any doors open to create a gust of wind. Streaming on Shudder, Host is a simple low budget independent feature film that squares its runtime off perfectly and delivers what many more financed films fail to do. Taking advantage of both the repercussions of isolation during quarantine and the fact Zoom took over the world, Host is a contemporary take on a demonic spirit out to kill. The Host also has one of the best uses of face recognition I've seen in a horror movie yet. Expect copycats in the future, because it was darn creepy.
12. To Your Last Death, Best Horror Movies 2020 – Action
A Saw-inspired animation movie with voices from William Shatner, Ray Wise, Bill Moseley, and Morena Baccarin to name a few. With a Happy Death Day sequence set up, a game is started among families with sadistic controllers and an evil father at the helm. "To Your Last Death" doesn't have the new tech style of animation like Oats Studio has but rather a unique old-school style that is similar to turning the pages of a comic book except they move a little. Non-the-less, I thoroughly enjoyed this bloodbath of a movie and you should see it if you can. Distributed by Quiver Distribution. You can watch it on Digital HD a& Cable VOD + the Blu-ray has special features. Directed by first-timer, Jason Axinn and writers Jim Cirile and Tanya C. Klein.
11. The Lodge
As much as I loved The Lodge for its clever and twisted tale about two siblings and their stepmom, I also had a couple of gripes. The logic behind the actions of much of its small cast was idiotic. That being said, if you can ignore the rather big plot twists to arrive at the ending and still be impressed, kudos to the filmmakers Veronika Franz and Severin Fiala (who directed and wrote.) And also to co-writer Sergio Casci. This is a quiet and worthy conversation piece with exceptional atmosphere, cinematography, and nods to familiar horror movies. Watch "The Lodge" on Hulu in the USA or as a digital rental or purchase elsewhere.
10. Hunter Hunter
A newcomer late to 2020 and from IFC Midnight, I wouldn't have even watched this had it not been for the almighty rumbling of enthusiasm on internet forums. "Hunter Hunter" has a jaw-dropping climax that follows closely behind some frenetically tense scenes beforehand. Sure you can quibble about the setting, a few of the decisions made by the mother, and a small dose of predictability. But at the same time, the skeletal bones of the makings a fairytale structure with a heroic woodsman, a damsel in distress, and a big bad wolf in the forest, "Hunter Hunter" has to be commended for many things. Director and writer Shawn Linden did a good job. Watch it on IFC Unlimited in the USA or as a purchase or rental.
9. Relic
An Australian gem, Relic was a beautiful and dark film that tackles mental illness and a crumbling family hierarchy with flair. The sound design and attention to detail were breathtaking. "Relic" was both terrifying and exquisite in its ability to manifest two ways of looking at the storyline. Performances were excellent and in the end, a film like Relic is going to divide an audience because its style and slow-burn nature are not to everyone's tastes. Mother of Movies loved Hereditary and The Other Lamb and many other slow build escalations and I was just as impressed here. Written and directed by Natalie Erica James and co-writer Christian White, the finale had me crying in its perfect execution. Stream Relic on Stan in Au, Spectrum in the USA and rent it or buy it elsewhere.
8. The Wretched
Where to watch the Wretched, You can watch "The Wretched" on Netflix and it was the darling of the film festival circuit throughout 2019. Mother of Movies is not a fan of witches or folklore concerning them. On top of this concepts from these mythological creatures were taken from Roald Dahl's The Witches. To say I was uninterested would be an accurate reflection of my perceived enjoyment. So imagine my surprise when I streamed it while on the treadmill, turned it off, finished my walk, and then restarted it inside on the big telly. Its opening sequence is brutally uncalled for, the creative use of imagery for The Witch is dark and grisly and creepy all at the same time. The sound design will permeate to your very core. Just watch it, there are so many great elements to love in this impeccably detailed take on classic folklore.
Directed and written by Brett Pierce and Drew T. Pierce
Distributed by IFC Midnight.
7. Bleed With Me, Vampire Best Horror Movies 2020
Amelia Moses, did I mention she is a name to watch? Bleed With Me is a quiet, slow burn that does leave questions at its finale. But I watched it twice and if you sit and ponder there are conclusive details underfoot. It all begins in an isolated cabin in the middle of Winter. They all do, of course, but what if your best friend seems to be stealing your blood in the middle of the night? Lauren Beatty is superb in "Bleed With Me" and its ambiguity plays into much of what the film successfully does. The score for the film is an asset to its dark and dreamy atmosphere and you never really know who the antagonist is until it's too late. Distributed by IFC Midnight, stream "Bleed With Me" when the release date for 2021 gets confirmation.
6. Hunted
Another film with a fairy tale at its center, Hunted hit the virtual 2020 film festivals with a story about Little Red Riding Hood. It's steeped in folklore, smashes up against a survival revenge movie with a serial killer center. Like a bar of chocolate, the keeps on giving the more you eat it, "Hunted" comes from Vincent Paronnaud and is co-written by Léa Pernollet. Fortunately Shudder picked this action-packed horror and thriller joyride up and it will drop on the streaming platform on January 14th, 2021. Follow Eve as a strange man at a bar huffs and puffs his way into her good graces only to reemerge as a wolf in sheep's clothing. Visually stunning and wonderfully violent, I loved every minute of Hunted.
Hunted Movie Trailer, Watch it on Shudder from January 14th and enjoy the ride.
Best Horror and Thriller Movies of 2020 + Dark Cinema
4.5 Stars Out Of 5

5. Swallow
Some would say this is not a horror movie or a thriller movie. I say "who cares?" It's dark and psychologically disturbing and Mother of Movies never claimed this was going to be a straightforward horror movie list. Certainly, "Swallow" is labeled as a thriller though, so just stop being a genre Nazi and enjoy the movie.
The color palette, Haley Bennet's performance, and the brilliance in which one woman's struggle against control manifests itself into a life-threatening obsession is pure brilliance. Writer-director Carlo Mirabella-Davis's ability to cause a range of emotions, empathy, and for something many could never understand is perfection. If you aren't holding your breath at some point during this film, you're doing it wrong.
Stream Swallow on Stan, Foxtel and Mubi in Au.
Fubo and Showtime in the USA
NowTV in the UK has Swallow to stream.
4. Why Don't You Just Die, Best Horror Movies 2020
Back to Russia, the Why Don't You Just Die movie got Mother of Movies flagged by Facebook. For bullying apparently, instead, I was agreeing with someone about this being one of the best action, horror movies of 2020. A fast-paced brilliantly scored piece written and directed by Kirill Sokolov. This awesome movie has it all, cartoon-like attempts to kill the villains, spitefully funny narrative, and visually aesthetic violence.
It all starts with Matvey who just wants to please his lover by killing her malevolent father. he arrives at her house with a hammer and from there the narrative just picks up and never sits down again. "Why Don't You Just Die or Papa, sdokhni" is so much fin you'll wish time slowed down. Distributed by Arrow Films, you can watch it on their new streaming platform the Arrow Video Channel which says the film is coming soon. Arrow Video is available in the USA and UK.
3. Bloody Hell Australian Horror Movie
Bloody Hell is an Australian horror film that ran in Australian cinemas briefly in 2020 after a short film festival run. It's bloody brilliant, funny, fast-paced, action-filled and simply just has to be seen. Mother of Movies predicts "Bloody Hell" will be at the top of many best movie lists in 2021. But I digress, Ben O'Toole who Mother of Movies now adores, plays Rex who is jailed after a bank he was in gets held up. When he's released he has a mass following of people who hail him a hero. Rex flees the country and things just get weird and crazy from there. Is it over the top? Sure but Bloody Hell's unpredictable nature and tight writing had me never guessing where this would end up next.
Directed by Alister Grierson (Kokoda)
Written by Robert Benjamin.
Distributed by The Horror Collective and Entertainment Squad Bloody Hell is due for a general release in the USA on January 14th, 2021.
The Top Best Movies 2020 Each Have 5 Out of 5 Stars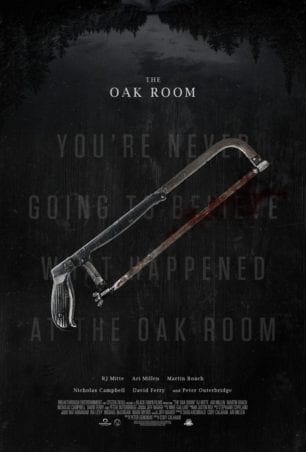 2. The Oak Room
The best film Cody Calahan has made in my personal opinion is The Oak Room. Written as a stage play by writer Peter Genoway, the film sets the scene as a competition for 'goosing the truth.' Starring the brilliant RJ Mitte alongside Peter Outerbridge, the thriller movie sets up in a blizzard at a bar. If you're a fan of storytelling and sometimes wonder if there is any originality left in cinema, "The Oak Room" will showcase that the ability to tell a tall tale and be interesting is alive and well. Mother of Movies watched this film over and over, three times, and ended up with a different conclusion each time. And I'd watch it again.
Stay tuned for announcement details or keep an eye on the Black Fawn Films Facebook page for release details for The Oak Room.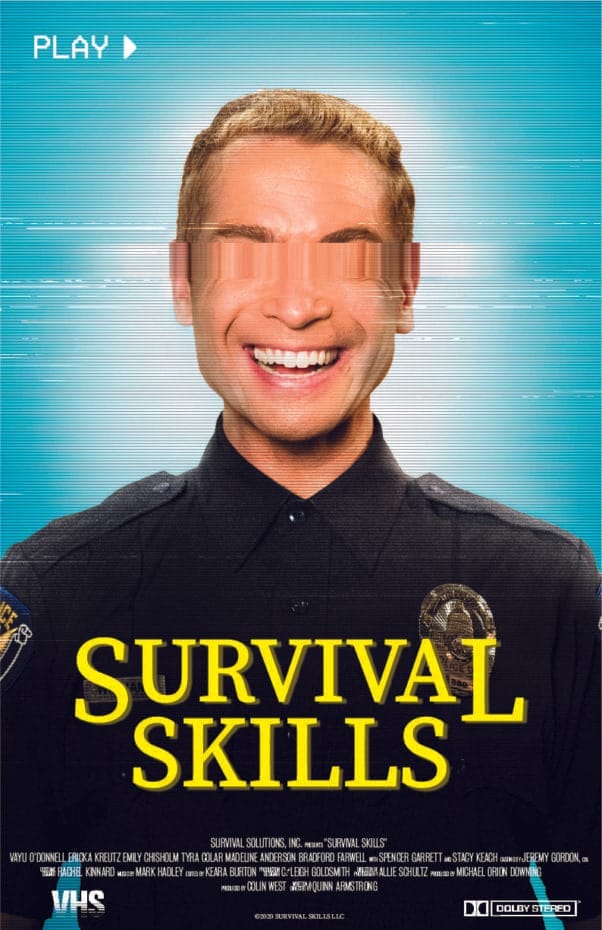 Number One Spot – Best Movie of 2020
Technically labeled a drama, I'm allowing Survival Skills with a loophole for the dark foreboding nature of the story to slip this one into Mother of Movies' best Horror and Thriller Movies for 2020. Plus the narrative features a character so awful and abusive in the final quarter it could stand up tall against any thriller movie it stands next to. Survival Skills will take you on an emotional roller coaster and make you fall in love with Jim. Jim is simply ripped straight out of the training video he was made for and positioned into a real-life. What's more, he's a rookie police officer.
The themes within the storyline might take a comedic stance but the truth is they encompass domestic violence and the failings within our own systems. What's more horrifying than that? Quinn Armstrong's directorial debut is a film you must see simply because it's fabulous. Narrated by Stacey Keach, this dark and crazy comedy will leave you feeling awful but in all the right ways.
Mother of Movies interviewed the lead character Jim, played by Vayu O'Donnell. In addition, you can buy or rent Survival Skills cheapest from Fandango in the USA. For more places to watch, see the Cranked Up website.
Special Mentions + Drama, Comedy & War Genre
The Painted Bird Movie
War films are not my cup of tea. Sometimes though, there is so much chatter about certain movies, I would be remiss not to mention it. The Painted Bird is a black and white feature film from IFC Midnight. It has a heavy-duty run-time close to 3-hours and is tasked as tough to handle. A fellow film lover, Kieron had this to say about the film:
"A harrowing opening couple of minutes set the tone for what is to follow for the next 2 hours and 45 minutes. Shot in black and white it looks amazing, every shot in every scene is perfect. It's dark, grim, and miserable reflecting the situations that Joska finds himself in. The things this young boy sees and is put through would scar anybody for life, there are some very tough to watch things on show here.

There are small glimpses of humanity on offer and are welcomed when they appear, these are very few and far between, and overall though this is very grim, unapologetic, and tough viewing indeed. Even when he does seem to reach a safe haven this new carer not as he seems and leads to sickening abuse (this isn't shown, only implied)."

Kie, from one of the many horror movie Facebook pages, Mother of Movies is part of.
Dinner in America Movie
A comedy, drama, and musical independent feature by Adam Rehmeier (The Bunny Game.) Simon and Patty meet through unusual circumstances and end up running from the police together. The high-energy and crude comedy film includes plenty of catchy original music. Excellent performances and totally loveable characters. Did I mention it's a feel-good movie for punk-rockers? A 2020 film festival favorite distributed by Madman Entertainment.
The Paper Tigers Martial Arts Movie
Similar to how Cobra Kai made being old not something that stands in the way of success, The Paper Tigers has washed up Kung Fu prodigies too. This extremely charming action and comedy movie is by writer-director Tran Quoc Bao. A directorial debut for Bao, The Paper Tigers movie is still on the festival circuit, however, was picked up by distributors Well Go USA for a 2021 release.
Death to 2020 Netflix
Death to 2020 TV comedy special dropped on the Netflix platform in late December 2020. The mockumentary is much the same deplorable comedy as something like a Borat film but never goes as far. With an all-star cast and narration from Laurence Fishburne, relive the delights of a world that succumbed to a virus, was filled with Karens, fires, and historical movements. If you're ready that is.
DTF Documentary
A documentary from Al Bailey about a filmmaker that follows his pilot friend around the world. It begins as a quest to document finding love on Tinder and ends with a spiral of amoralistic behavior, mental illness, and addiction. To watch DTF in your region, check this link. DTF is distributed by Gravitas Ventures. Read the full DTF review and see the trailer.
"8 Movie" aka "The Soul Collector"
Most certainly a film in the horror category, The Soul Collector is a South African directorial debut folklore feature film by Harold Hölscher. Cinematically excellent and filled with dreamy and dark themes, the story follows Lazarus. Added to my special mentions section purely based on the performance of Tshamano Sebe who plays the old man fated to collect souls you can watch this movie in the USA on Prime and Canadian Shudder. Also available as a rental in Australia, the UK. Look for it on JustWatch.com for your region.
The Special
The Special is by director Harrison Smith (Death House.) It follows Jerry who thinks his wife is probably cheating on him. His best friend takes him to a brothel so he can even the score and recommends 'the special.' For a film about a guy and a box with a hole in it, I have to give credit where credit is due. A totally watchable film that you'll probably never tell anyone about except for the people that already know you like weird stuff. Available in the USA on Hoopla and as a rental or purchase in other regions.
Disappointments, Not the Actual Worst Movies of 2020
Freaky
Underwater
Get Duked
The Nest
Blood Quantum
La Llorona
His House
Black Water: Abyss
Don't Listen
The Colour Out of Space
The Babysitter: Killer Queen
Sleepless Beauty
Scare Me
Straight Edged Kegger
On My Watchlist
Deerskin
The Wolf of Snow Hollow
Antebellum
Promising Young Woman
Bulbbul
Black Bear
Run
Followed
Peninsula
Synchronic
Game of Death
Skylines