Described by Silver Screen Riot as "a mash-up between Tusk and Guitar Hero" 'Sound of Violence' is a one-of-a-kind horror movie. The film is an ultra-violent story about a serial killer who uses music to wreak havoc around the city. It comes from the mind of writer-director Alex Noyer (Conductor and 808.) Sound of Violence follows the life of Alexis, aged ten, following a scene involving a meat tenderizer, her mother, and her brother at the hands of her father. If all that sounds like too much for you to take in the first 10-minutes of a movie, hold onto your pants. That is only the beginning.
Starring Jasmin Savoy Brown (2022's Scream) as Alexis, the narrative navigates its way around the bounds of realism. It uses the horrific montage of a young Alexis, who begins the film deaf, witnessing her family murdered. Her father returns home from war suffering from some kind of PTSD episode and Alexis sees it all. In the aftermath of the brutal bludgeoning, emergency officers see the young girl smiling and laughing in apparent glee at what she has just seen.
Flash forward, and Alexis can hear. She is a music teacher and famed for unconventional and unique music. Her best friend Marie thinks Alexis is a "bit odd" but thinks nothing much of assisting her to hire masochists to record the sounds of impact for her latest track. In day-to-day life, Alexis is a nice girl who loves her music but behind the scenes, loves her experiments.
"If the police aren't complaining, you're not playing loud enough"
Her experiments are where we get to witness the full extent of what Alexis is trying to do. When she hears the sounds of violence, it's as though she taps into an alternate reality and derives so much joy from her experience she wants others to hear it too. The pureness of the insanity that is collected from this quietly spoken and articulate woman is what makes the performance of Jasmin Savoy Brown's Alexis truly captivating. Never mind the indulgence of her apparent supervillain abilities or capabilities to evade law enforcement that seem to ebb and flow along the course of the film. Leave your desire to uncover an explanation at the door. Cops are slow in horror, just go with it.
The onslaught of visual and auditory harassment takes the film into experimental territory with the use of pretty lights, techno music, and of course, gore. There is a lot of smashing and bashing, cutting and hacking alongside some pretty spectacular torture devices. Devices that are purely for the recreational enjoyment of our serial killer, Alexis.
If you love your kills like you love your coffee in the morning, dark black and unrelenting, take a peek at Sound of Violence. The story might be a little thin but sometimes it doesn't matter in the scheme of interesting and memorable filmmaking.
I give Sound of Violence
3.75 killer music tracks out of 5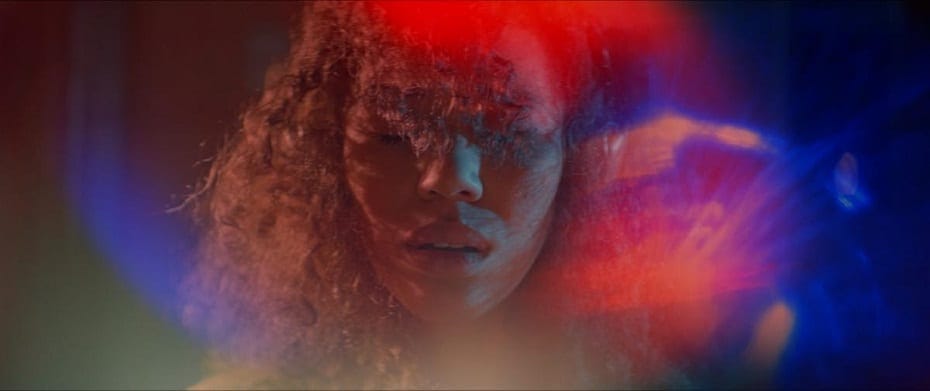 Sound of Violence Teaser Trailer
Written and Directed by Alex Noyer,
Distributed by Gravitas Ventures and produced by You Know Films,
Sound of Violence release date from May 21st, 2021 on cable, digital, and VOD. The UK release from 31st August 2021,
The film is also known as Conductor,
Starring Jasmin Savoy Brown, Lili Simmons, James Jagger, Tessa Munro, and Dana L. Wilson.
Sound of Violence was acquired as a screener for Mother of Movies,
Movies with 'violence' in the title: Random Acts of Violence,
Movies with plenty of violence: The First Purge / The Cannibal Club,
Music driven horror: Starfish