The Cannibal Club is an independent utopian movie from Uncork'd. Portuguese movies with English subtitles. What more could you want? Oh, wait, yes, cannibals… that's always fun in horror, right? This is one of the best.
Portuguese Movies. The Cannibal Club Movie Trailer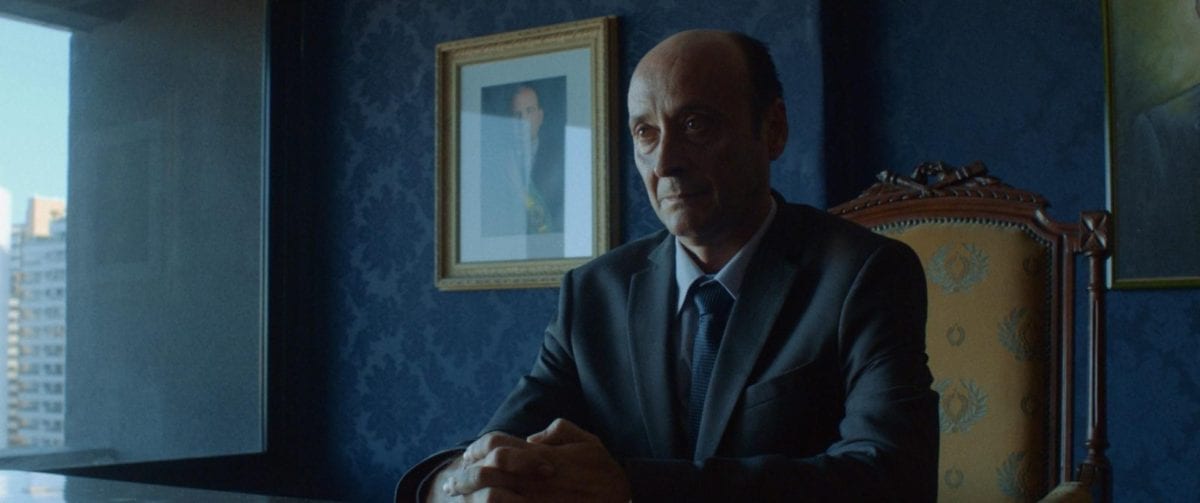 Interesting fact — Digging around I found there is an alleged Cannibal Club in LA. You can see the link to the website I found. There are numerous reports of celebrities being named as having dined there, however, these are supposedly false. The restaurant itself is also a big fake. Someone faked the website, the names, and the photos of the alleged staff working there. Lucky too, because the menu is pretty short. Funny story though. Check the report of the claim on Snopes Fact Checker right here.
Club at the End of the Street – Cannibal Club Movie Review
I'm not claiming this is the first perfect 5-star Uncork'd film to be found. I certainly don't think I wasted my time last night watching it. Even though I was really quite tired having accidentally quaffed too much fancy Jameson Scotches following a few glasses of wine. I wasn't really feeling like a late night and the runtime for this is nice and short.
For me, this film has the perfect combination of factors. It's easy to follow, it's short, it's well performed and made a movie I was a little nervous to see (hello, people eating people) totally palatable. Unlike the movie Raw (2016) which made many viewers squeamish, The Cannibal Club doesn't delve into the act of preparing Long Pig.
In The Cannibal Club, there's none of that hard to watch grossness that often comes with a film with a title like this one. There are a few well-executed acts of violence here but it's not called The Fluffy Bunny's Club so you would expect some sort of horror-affiliated imagery. It delivers a few fabulous scenes with finesse.
Deadbeat Club, in a Portuguese Movie With English Subtitles
The story centers on married couple Otavio and Gilda who are among Brazil's elite. They are rich and have all the trimmings that go with being in among people of this status. Plenty of servants, plenty of time sunning by the pool and nights mingling with other well-to-do-folk. The overall tone of the film takes a stab at pointing out the wide divide between the rich and the poor and here we see the wealthy eat their subordinates at club dinners while dressed in tuxedos. The hired help is lured into situations prior to being consumed and club members that break The Cannibal Club code disappear with an announcement from the head honcho Borges.
During a party one night, Gilda stumbles upon a scene in which Borges is discovered to be doing something considered untoward by some. The Club is much of a manly man's club. Despite Gilda's attempt to set the record straight with Borges, she returns home to her husband and together they come up with a plan to figure out if their lives are in danger. Like any plan, in any horror movie, things never go quite the way we expect and here is no different.
How Much Comedy is in this Horror-Comedy?
The Cannibal Club is listed as a horror-comedy, however, this one's not the laugh out loud type. Rather, it's a smirk induced romp of situational bad decisions and wrong place at the wrong time kind of story. One of many Utopian movies, if you will, hinting about society's misgivings.
Ana Luiza Rios is a fantastic lead as Gilda with a performance to die for (pun intended.) A stereotypical wife in a not so typical world. The rest of the main cast are also enjoyable to watch and they fumble their way through what was surely a surprisingly good film to digest. Watch it for a quick fix of fun in the sun… with cannibals.
Watch the Cannibal Club for free on TubiTv in the USA + Vudu
I give The Cannibal Club
3.5 what's for dessert? out of 5

---
---
Best Portugese Movies, The Cannibal Club
Written and directed by Guto Parente,
Production Company is Tardo with Distribution from Uncork'd and M-Appeal,
Starring: Tavinho Teixeira, Ana Luiza Rios, Pedro Domingues,
Released: USA Brooklyn Horror Film Festival on October 2018. Look out for it in December 2018,
Language: Portuguese with English Subtitles and a tidy 81-minute runtime. Also known as O Clube dos Canibais, 2018.
Utopian + Portuguese Movies?
The Cannibal Club is said to be one among many classified as Utopian movies. A film that mirrors societal issues in a disguised manner. They tend to criticize society in often comedic ways. Another new film to have done this is The Farm. A little more overt about its message but still a strong film for me.
Serve your snacks in these skull-shaped snack trays, you know you want to.