Prisoners Of The Ghostland Reviewed & Coming to Shudder
Similar to an episode I once saw of Seinfeld, where George Costanza keeps ordering pesto in the hopes he will like it, I continue to watch movies like Prisoners of the Ghostland. Tripped out nonsensical storylines vaguely held together by bizarrely intricate settings. Fantastical backdrops that belie any type of straightforward ideas and instead trap you inside a fever dream. Western themes, Kabuki theater characters, and flashbacks form the basis of what looks and feels like a pretty music video intro. Except this intro lasts the whole movie. There are some that enjoy this display of weirdness and don't mind that a run-time of 104-minutes gets you no closer to the closure as the credits roll. Me, I want to feel like what I've seen had a point.
Cage Might Explode
Certain elements of Prisoners of the Ghostland can be recounted in a normal fashion. A former bank robber gets freed from jail to look for and rescue his granddaughter. Hero is chanted into a leather grandaughter finding suit and sent on his way. Mind you, this skin-tight apparel has a time limit of 5-days ensuring the task The Governor has set will hopefully get done. What happens after 5-days, you ask? Well, Nicolas Cage will explode of course. Hero's crimes are announced in front of a crowd. But Hero didn't do it. Old mate Psycho did. Hero just took the fall.
Explained in that way, it's probably difficult to understand what went wrong with Prisoners of the Ghostland. But this film doesn't explain it that way or in any way remotely close to that. Instead, I felt like I was inside a repetitive video game, where to get across the finish line you have to get past everything that's thrown at you. So as Hero walks his way from A to B, we get to see him remember how he got here, fight people and growling humans, and even get his balls shot off.
By about halfway, however, I didn't really care if Hero was going to get redemption or not. Nothing had really happened by this point. I began thinking about how in the Labyrinth movie, Sarah sees a talking worm with blue hair who sends her back to the start of the maze. I wondered if Nicolas Cage was in fact a talking worm. Inserted into anything cinematic event he touches to create confusion and roll about on the ground from time to time. I mean, it certainly makes as much sense as this movie.
I give Prisoners of the Ghostland
1.5 "take it off, take it off, take it off," No means no. out of 5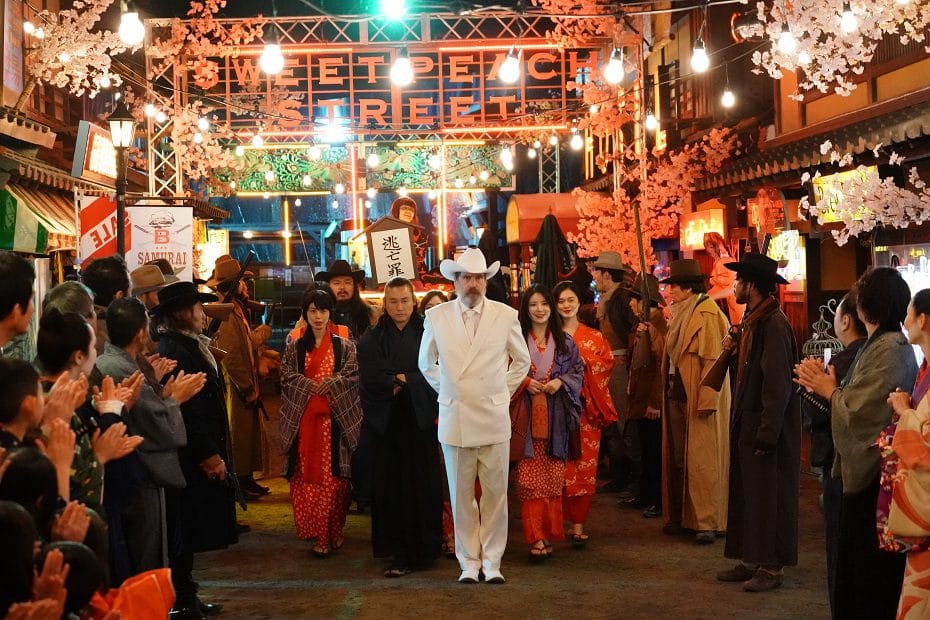 PRISONERS OF THE GHOSTLAND
The action and horror, sci-fi movie will stream exclusively on Shudder and AMC+ platforms in the U.S. starting on November 19.
Directed by the acclaimed Japanese director Sion Sono (Why Don't You Play in Hell.)
Written by Aaron Hendry and Rexa Sixo Safai (Western Wonderland).
Starring Nicolas Cage, Sofia Boutella (The Mummy), Nick Cassavetes (Face/Off), Bill Moseley (Texas Chainsaw Franchise), Tak Sakaguchi (Tokyo Tribe), and Yuzuka Nakaya (The Forest of Love).
Joseph Trapanese (Tron: Legacy, The Raid: Redemption, The Greatest Showman) composed the original score.