Son Review Explained With Spoilers
Son is the type of horror movie I love. Tied up with strange illnesses, creepy cults, and driven by hidden secrets. The story kicks off with a dirty and disheveled Laura mid-labour. With her son born moments later, Laura tunes into her motherly instinct and tunes out of her past nightmares. Whatever we need to know about what's wrong with her son David becomes glaringly clear when his health turns into something that causes him to vomit blood, get covered in lesions and submit to whatever is causing him pain. This movie review of Son contains spoilers.
Laura thinks a bunch of people was in David's room shortly before this all begins to happen. With no evidence or reason presented as to why strange creepy cult people would be there, investigators are at a loss to what might be happening. Frequent hospital visits begin with David's decline growing stronger and stronger. A glimpse of a dream Laura has while waiting at his bedside shows us what we already suspect. There is a cult and now they are after her son.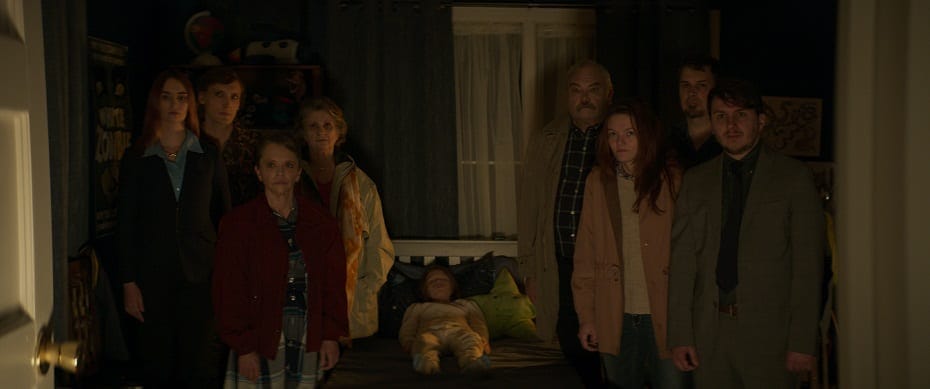 Son Explained- Son Movie With Spoilers
Son becomes a movie about escaping your past and the monsters within us. It holds the notion of what might happen if Rosemary's Baby had a sequel and Rosemary escaped and went on the lamb to start over. It also reminded me a little of what might happen in a sequel after the film Grace. If you've never seen that hidden gem, I highly recommend it.
Whatever notions you decide to follow to lead you through this film will determine how surprised you are when the truth is finally revealed. Is David a monster? Is Laura crazy? (unlikely because David very clearly kills a few people along the way.) Will anyone believe her or will this cult eventually catch up with her and show us how all this began? If you do want answers, Mother of Movies got the backstory seen in the newspaper clippings and added it to the end of this movie review. Hit the triangle and it will open a hidden Son spoiler review section.
Memory Gaps Galore
What didn't work for me was the inconsistent memory gaps. Flashes of Laura's past come to her from time to time. Enough for her to cover her son's tracks with culty information so the cops don't come for her too soon. Also a little frustrating is David's memory loss soon after his first kill which continues for the rest of the film. I think it would have been cooler if David's personality changed a little as he recovered. Especially given he remembers the sickness.
It becomes clear that Laura's release from the mental institution was not all that long before the film begins. In addition, it's briefly mentioned that her doctor in the institution treated her into believing the stories of rape to cover the truth about the fact she was instead summoning Lucifer.
Overall, I really liked Son. If the Devil is in the details, listening to the finer points in the story really clears things up.
I give Son
3.75 Devil sons out of 5
---
Director/Writer: Ivan Kavanagh
Stars: Andi Matichak, Emile Hirsch, Luke David Blumm, and Cranston Johnson.
Produced by Belladonna Productions and distributed by RJLE Films and Shudder
Son Movie With Spoilers
What did the newspaper article in the film Son, say?

Here's what I could garner from the newspaper that flashes breifly on screen about Laura's past

May, 10th, 2012

Excpets taken from the two clippings seen in the scene between officers Paul and Steve.

The beautiful landscape of Kansas held a terrible secret for almost 7 years. From the age of 10, Anna Hansen lived a nightmare existence of daily abuse, sexual and physical, by her father Phillip Hansen, and the men who paid him to rape her. Locked in her bedroom for most of those seven years. She was taken out of school by her father at the age of 14 after her mother had died of cancer. She barely ever set foot outside of her home during that time. Last Saturday night, Anna made a desperate bid for freedom. She escaped from her family farmhouse, stealing a car. 9 months pregnant with a baby.

Who is Anna Hansen?

Fathered by one of her attackers, she gave birth to the child, a boy, at the side of the road. Police came to her rescue. Hansen is currently being treated for mental and psychological trauma in Kansas State Hospital. Although her condition is stable, her mental health is severely damaged from the horrific conditions under which she lived. Physicians are evaluating her condition and formulating a plan to help her heal and transition back into society once the treatment is completed. An ongoing effort will be made by the community to enable her to regain autonomy and work toward leading a normal life in the future.

A police raid was immediately carried out on the farmhouse where her father and three other local men were arrested, and three days later, seven more men, three from Kansas were identified by Anna and arrested.

Questions have been asked about how this could happen as teachers at Anna's school had alerted social services on several occasions, after Anna came to class with bruising and her personality changed drastically from a bright happy child, to a depressed and withdrawn one. The accused have all be charged and will appear in court on the 14th of the month
More crazy kids: All that We Destroy / He's Out There / Eli & Fractured movie review