"The Hitman's Wife's Bodyguard" Because Ryan Reynolds, Am I Right?
I hadn't seen The Hitman's Bodyguard prior to its sequel, The Hitman's Wife's Bodyguard. But who doesn't need a bit of Ryan Reynolds binge? I'll simply watch anything with Reynolds' name in the cast. The storyline for the latter is beyond ridiculous and never pretends to be anything but. Somehow though, a second film about a once elite bodyguard who is now in therapy since coming across a vicious hitman is a story I wanted to see. The action scenes are tight and frequent but enjoyable for even me, who doesn't much go for endless car chases and explosions for the sake of explosions.
This movie follows on from the previous 2017 film The Hitman's Bodyguard. This time, it's four years later with Hayek's character Sonia Kincaid in a more central role. Some of her antics this time around are in relation to trying to make a baby with her husband, while on the run and while being chased by the Mafia. A humorous situation to be sure and there were certainly plenty of giggles for audiences to enjoy. Even in the face of a predictable storyline, Sonia's ability to be likable and funny helped when dropped in amongst a color by numbers plot. There's no way anyone watching this action and comedy film could describe it as unpredictable. We've seen most of what happens dozens of times before.
Sonia Kincaid: "I need you to protect us. We're trying to have a baby."

Michael Bryce : "May god have mercy on our souls."

Quote from Hitman's Wife's Bodyguard movie
Ultimately in films like this, which are shallow and silly for the most part, it's the performances of the cast that have the ability to make it work. This movie is no exception and again the almost love affair between Darius (Samual L. Jackson) and Michael Bryce (Ryan Reynolds) holds up strong. Sonia feels like a very welcome third wheel in the sequel and does an exceptional job of finding her footing.
Moreover, having Michael Bryce unconscious for a few scenes and carried about like a new age Weekend At Bernie's was not something you see every day. Neither is the rather implausible ending of The Hitman's Wife's Bodyguard scenario of finding yourself adopted as an adult. I'm not sure anyone was excepting anything less though were they?
The Hitman's Wife's Bodyguard is rated
3.5 stupid but enjoyable films with Ryan Reynolds out of 5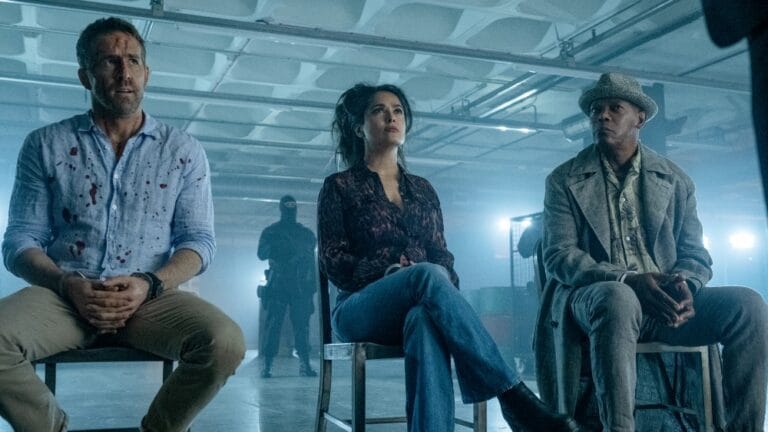 How Can I Watch Hitman's Wife's Bodyguard?
The Hitman's Wife's Bodyguard cast is stellar and has names like Ryan Reynolds, Samuel L. Jackson, Salma Hayek,
Antonio Banderas, Gary Oldman, Brian Caspe and Simón Andreu.
Images for the review of The Hitman's Wife's Bodyguard are courtesy of Lionsgate.
Is "Hitman's Wife's Bodyguard on HBO Max? Not currently, but is streaming on Apple TV. Alternatively, check the link below for all your local streaming options. Hitman's Wife's Bodyguard is not on Prime Video in the USA but it is streaming on Prime Video in the UK.
The full movie is streaming on:
Hitman's Wife's Bodyguard Soundtrack is available to buy on Amazon. Check it out by hitting the image below.