The World Needs More Movies Like Gunpowder Milkshake
A pom-pom forward feminist-themed action and thriller movie, Gunpowder Milkshake was a movie I thought would be outshined by its cast. All women actresses I particularly love seeing on screen and want more of, all in one story. Lena Headey and Karen Gillan commence as mother and daughter appropriately meeting in a diner to share a ritual milkshake with two straws. The diner and other set props inclusive of wardrobes that pop with a comic book feel light up every scene. The narrative also follows a rather comic-led, superhero fable format as it becomes apparent that mother Scarlet is part of a corporation known as The Firm and she's in a lot of trouble.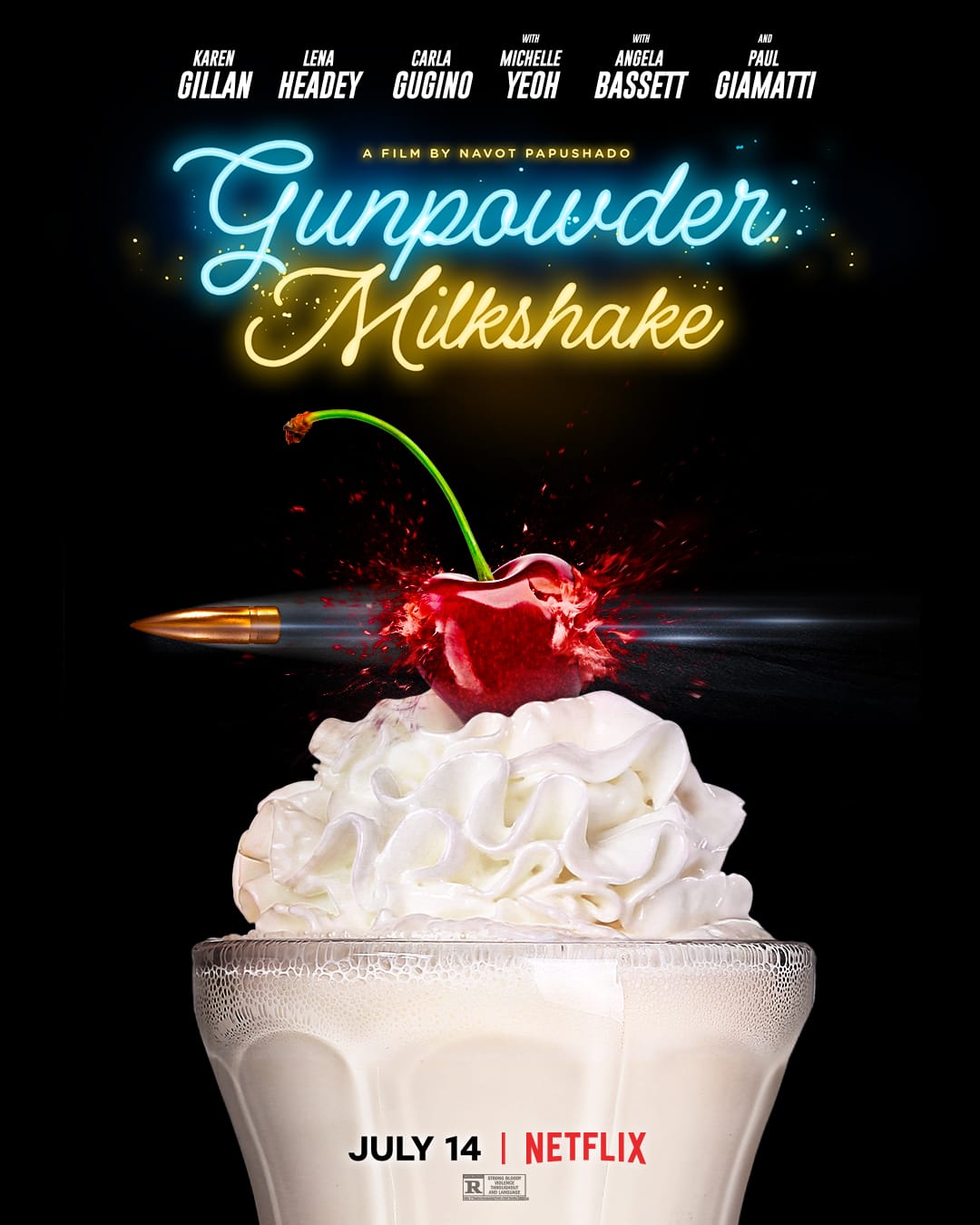 The audience is dragged back fifteen years to this scene in the diner but opens with daughter, Sam, guns'-blazing mowing down some bad guys. As a young girl, Sam was left behind under the care of a head honcho of the very firm that caused her mother to leave. Sam followed in her mother's footsteps and also became an assassin for the firm. Now, Sam is in the bad books. Despite having been under orders she finds herself in a situation that has seen her kill the son of someone important. Throwing further fuel on the fire, she then saves a young girl instead of retrieving money she was sent to recoup. The Firm wants her dead.
Gunpowder Milkshake Girl Powered Assassins
Reading through some public user reviews it's easy to see why the world needs more movies like Gunpowder Milkshake. One proclaimed that "skinny lil' girls beating up 200lb men" was simply unbelievable. I mean, if John Wick can do it, why can't Sam? These types of "girl power" infused films are few and far between. Ladies can and should kick some proverbial butt from time to time. And more often. Most avid movie buffs can cite Kill Bill, but that was made in 2003. Films like Assassination Nation, Revenge, and Jennifers Body are examples of some recent women-centric films that are known by cinephiles but not mainstream crowds.
Gunpowder Milkshake has a lot to say. It does so cleverly and in ways that give it a metaphorical edge. Guns, money, and ammunition, hidden away in feminist book titles that are name-dropped throughout the film is the sort of detail that raises the bar. The hitwoman lair set in a library and run by well-dressed edgy females was something memorable. Who needs a bat cave when you have a self-help section filled with artillery and literature? There were so many small details that flip the script on traditional superhero movies you can't help but sit up and applaud.
There is an open dialogue about men not understanding women. And more importantly, being in positions that are often controlled by and outnumbered by men in areas of business. I loved that this was touched on but done in a way that was never overplayed or heavy-handed. It simply melted into the storyline and became an afterthought for later. I could talk about the themes all day, but I won't.
Do Men Understand Women?
"Always giggling in dark corners, I loved my girls, but I don't understand them."

Jim McAlister – quote from GunPowder Milshake 2021
The movie isn't perfect. There were moments when stunt people changed the body shape of our quintessential heroes. In addition, I began to wonder if the target audience was being overlooked with the lengthy nature of the fight scenes. The choreography was exceptional, but how much is too much? I did enjoy the slow-motion finale however and paid close attention to some of the more graphic violence along the way. There were some brutal scenes that stood out and were very well executed.
Overall, I enjoyed Gunpowder Milkshake very much. Don't pay any attention to the comments by those that simply can't imagine that girls can do action movies and gore just as well as the boys.
"They've been running things for a long time. They make all the rules, change them when it fits their needs. They think they're untouchable. They think they can get away with anything."

Sam – quote from Gunpowder Milkshake
I give Gunpowder Milkshake
4 librarian bat caves out of 5

Directed by: Navot Papushado.
Written by: Navot Papushado and, Ehud Lavski.
Starring: Karen Gillan, Lena Headey, Carla Gugino, Michelle Yeoh, Paul Giamatti, Ralph Ineson and, Chloe Coleman.
Produced by Studio Canal / Distributed by Netflix
Female forward horror movies: Girl / Swallow / Bloodthristy / The Stylist
Mother of Movies would like a sequel for Gunpowder Milkshake please.
Gunpowder Milkshake is streaming on:
Get a VPN and watch this on Netflix USA. Mother of Movies uses CyberGhost.