The Nest Movie Teems With Bugs & Dee Wallace
Starring Dee Wallace, The Nest is a horror movie with a made-for-tv-feel. It was also a film that felt like it ran for about four hours. By the time it eventually unfurled its long-awaited finale, its lows outweighed the highs. Fans of Invasion of the Body Snatchers or films that are driven around insects will get a level of satisfaction. In addition, The Nest delivers a dose of creepy crawlies that have the ability to control the mind and body of its host.
The Nest is fueled by engaging the villain in plain sight. The audience knows who is infected even if the symptoms of infestation aren't overly obvious. There is a distinct lack of scenes where you see insects. Additionally, when a new victim becomes host to these insects, the camera shies away from showing anything. Unlike films where swarms of creatures are usually seen forcing their way into orifices of their own volition, The Nest chooses a much more subtle approach. Here, descendants of individual hives are those chosen to create new bug-laden habitats. And it all starts with a stuffed toy.
The story opens nestled in the woods, Beth and daughter Meg glance at items in a yard sale. The family of three has just moved after some tumultuous times. Beth's past drug addiction nearly destroyed her family and as a result, her daughter clings to her like a leech. A box of teddy bears sits on top of a table and Meg picks up a rather cute brown bear with big beady eyes. Beth agrees to buy her the stuffed toy and the creepy man running the sale gives it to her for free.
Teddy Bears Picnic? Thanks But No Thanks
Meg is instantaneously smitten with the bear which she names, talks to, and takes everywhere. Like something from Gremlins, instead of the teeming swarms, on occasion, the bear's belly moves as though it is breathing and opens up. When Meg is playing in the park one day, this is exactly what happens, and then as we hear screaming the camera closes in on the bears' shining eyes as the frantic unseen chaos unfolds.
Megs changes are only subtle which does help the intrigue quite a lot. She suddenly really enjoys sugar and is seen heaping large spoonfuls into her mouth. A soft clicking noise emanates from deep inside her. What's more, Meg is still suffering from separation anxiety from her mother but also has a quiet authority. What I did enjoy about The Nest is the underlying shapeshifting the insects subjected their human body to. For Meg, her love for her mother overrode the desire to infect her. For Beth, the guilt of her past discretions disables her logic at almost every turn.
The Nest Movie Offers More
As those around Beth, all begin to act a little odd a freak accident causes her to trip down a tall flight of stairs. Although unaffected by the parasite, she becomes a captive to her now plagued family. It's easy to assume the situation that evolves is due to an internal struggle with her own sanity. I eventually came to the conclusion that Beth's entrapment was due to the fact she had been trapped all along. As she struggles to go back to the life she once had, her husband assaults her and calls her a junkie. Her daughter Meg never lets her out of her sight. And while most films about bugs invading the world simply revolve around their insect domination, The Nest offers more than that.
The film overall is sluggish. Performances are uneven amongst the small cast. More often than not the narrative takes two steps forward and one step back to get where it wants to go. But on closer inspection, The Nest does offer something deeper for fans of parasitic movies.
I give The Nest
3 who loves mommy the most? out of 5

The Nest Film Trailer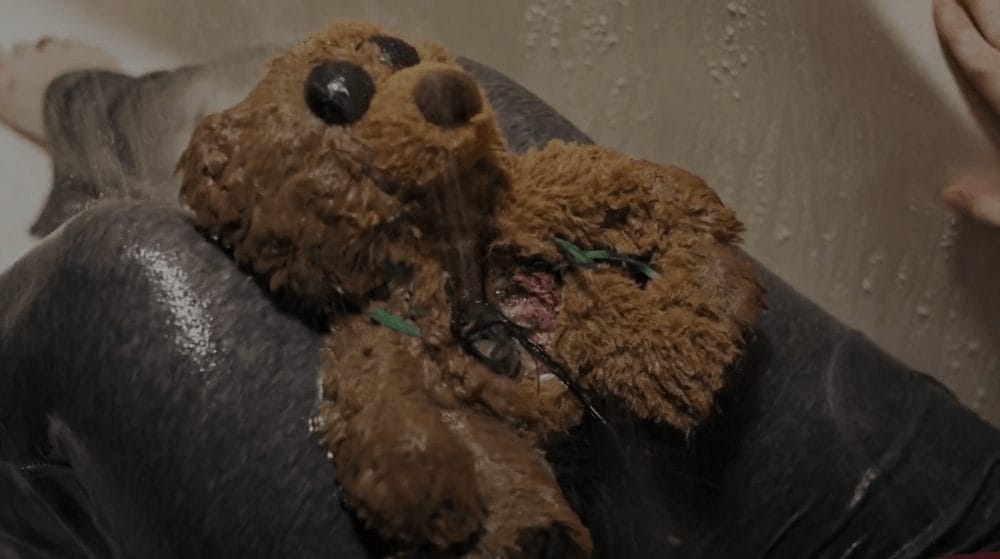 Directed by James Suttles / Writer Jennifer Trudrung
Starring: Sarah Navratil, Kevin Patrick Murphy, Drez Ryan, Blaque Fowler, Anna Lynn Holleman, Penny Munroe, Maple Suttles, and Piper Suttles also star.
Where to Watch The Nest
The Nest will be available exclusively at Redbox. It's also available on Digital, On-Demand, and DVD from 4DigitalMedia. For more information see The Nest website.