Hellbender Review (Fantasia Fest 2021)
If you've never heard of Wonder Wheel Productions, they are a movie production company run by a single family. Previously, Mother of Movies covered The Deeper You Dig, the family's first film. Their debut feature film was also screened at Fantasia Film Festival in 2019 and now they are back in 2021 with Hellbender.
Both The Deeper You Dig and Hellbender rely heavily on dreamy aesthetics to portray parts of the story being told. And they both hold a fascination with witchcraft and dark magic. Like their music, there are often moments where the filmmaking teeters in the experimental side and makes you work out what it's trying to say. It's also easy to see financing is on the lower end of the spectrum. Despite this, especially with Hellbender, there is a unique quality that's hard to describe that keeps you watching.
Nature VS Nurture
In Hellbender, the score is a wonderful addition to the film's narrative. Original music is used for the atmosphere here but also centers itself as part of the picture that makes up this family of two. Izzy and her mother live in a remote mountain top location, far from the reaches of other people. She has been kept in isolation her whole life. Her mother wants to keep Izzy safe because she has a rare illness that has forced her to be homeschooled. She has no friends and is forbidden from making any.
H6LLB6ND6R
Now at 16, as her mother and Izzy perform in their band H6LLB6ND6R to a crowd of zero, she wants to branch out. They are a great punk rock band, and people would enjoy their music. There is an increasing frustration emanating from Izzy that is trickling out of her like the blood they use in rituals. Hellbender feels like it's a story that derived from the likes of films similar to Run or Flowers in the Attic. Stories that fixate on mothers keeping their kids isolated because of a fictional illness. But early on the clues that Izzy and her mother are no ordinary family are there. These small details are easy to wave away and easy to blame on other things. Perhaps they are just one with nature, reliant on drawing what they can from what they have.
Izzy meets a girl at the other end of the massive acreage they live on it's easy to see why she would want to test her mother's theories on whether being around other people is actually bad for her. They hang out, swim in a pool owned by someone out of town and Izzy sees that nothing bad happened even though she went against her mother's wishes. There is a bunch of symbolic dream imagery used, this time to throw you off the scent of what is really going on. What is really wrong with Izzy?
Hellbender is a Slow Burn Horror Movie
Hellbender is a slow-burn horror film that at times frustrates in its pacing. But the payoff this time is constructed in a far more convincing way compared to their previous movie. The dialogue here lifts the film to a far more interesting subject and delves into what happens when your bloodline taps into its true nature. Can you really protect the ones you love from what they truly are? I've included a spoiler section with a quote from the film that explains exactly what a Hellbender is.
I give Hellbender
3.75 wolves in sheep's clothing out of 5
Shudder will release the film, which is written and directed by Toby Poser, John Adams, and Zelda Adams, in North America, the United Kingdom, Ireland, Australia, and New Zealand in early 2022.
Hellbender quotes, explanation & spoilers

What is a Hellbender?

A cross between a witch, a demon and an apex predator. They live off the fear that pumps through human blood. It gives them exceptional power. They are still evolving.

Quote from Hellbender

The Poem

The following poem narrated by Lizzie points out the pivotal point where she has discovered all the secrets her mother has kept from her. Here she points out that her power is much stronger than her mother's and serves as a threat as well as a warning that she no longer wants to stifle her inner Hellbender.

"There was a wolf who longed to be a sheep.

So she cut her claws and cracked her teeth.

She buried deep the wolf beneath. And when she bore a cub, she raised it as a lamb.

She cut its claws and cracked its teeth. She buried deep the wolf beneath.

But when the lamb grew, so did her claws, so did her teeth and the wolf ate her mother that was just a sheep."

The Ending

Embracing her true nature, Izzy knows her mother devoured the people that have turned up dead in the story. She now resents that her mother enjoyed all that a Hellbender is and renounces the protection she has over her. She throws her mother in hell so that she can enjoy her new powers.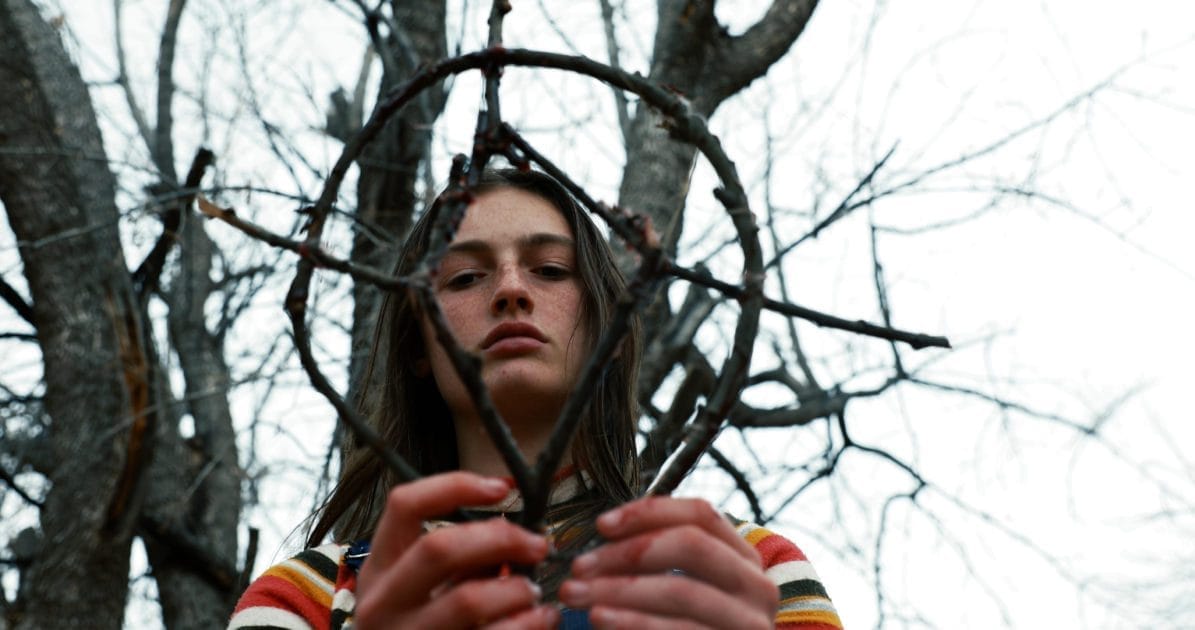 The Last Thing Mary Saw is coming to Shudder