The Feast, Welsh Folk Horror, A Shocking Slow Burn
Shockingly slow, early reviews allude to a story so quietly underwhelming that some viewers bailed. In contrast, The Feast was well-received when it screened at the Midnighter's section at SXSW in early 2021. Critics gave it the nod of approval. While Mother of Movies is neither a fully-fledged film critic nor your average cinephile, I can see that this is a film that will divide audiences. A psychological horror movie with back-breakingly stunning aesthetics. Those that enjoy being led into a story that will deliver at the end are the ones that will get the most out of this.
Choosing to hold its moralistic tones inside the simplicity of a family unit, The Feast wants to teach you a lesson. Painted with a large brush of the fable kind, Glenda is hosting a dinner party at her family's property in the Welsh mountains. Her husband is a politician. Her sons both squander their lives away with frivolous endeavors. There is nothing strange or offputting about this family straight away. Sure, they each boast about money and materialistic desires, however, their classist ideals are only lightly touched on in the first half. In the same vein, a lot of their behavior is part and parcel when it comes to the well-to-do.
The Rich Get Richer
Glenda has acquired a local girl to assist her with the preparations for the gathering. Cadi appears on foot, is quiet, but almost instantly raises one's spidey senses as she saunters around in the background. She doesn't say a word as Glenda busies herself listing instructions while offhandedly summarising her family's status as being quite grand. Cadi's unobtrusive but odd presence is underpinned with a score that is meant to tease and alert. Even if you don't find Cadi at all interesting, the sharp tones that accompany her movements insist you pay attention to her.
Glenda and her husband Gwyn are motivated by their own agenda for most of their time on screen. What they are doing is not revealed until the most opportune moment. Cadi's lack of personality is never noticed by anyone. It's the viewer that is watching her. The tension fills up like a dripping tap. But that only makes it all the more gripping. Their sons Gweirydd and Guto flout their privilege with effortless resolve. One is obsessed with being a triathlete and the other just wants to get high. Their presence as unlikely patsy's to their parent's greed is a sad but necessary representation.
Creepy Extreme Horror Movies
Those who have seen The Feast already taunt those who haven't with words like "creepy" and "extreme horror." In this instance, if you stick around long enough to find out exactly why Cadi is the way she is there are definite rewards of that nature. Some of the more pragmatic climatic scenes were extremely hard to watch. One involving a shard of glass created a moment where I did look away. The imagery was not particularly graphic and instead leaned heavily into a more artistic moment. However, the violence it held was definitely hard to stomach.
Unlike many psychological horror films, The Feast doesn't make you work too hard to understand the motivation of the main protagonist. With the help of some flashbacks that ensure you didn't miss the point of something the only question I had was whether the punishment fit the crime. What this film definitely does is promote the kind of passion towards ecological matters and sustainability of the Earth and everything in it to a most extreme impassioned plea.
The Feast releases on November 19th, 2021 in cinemas and VOD/Digital.
I give The Feast
4.5 dead rabbits out of 5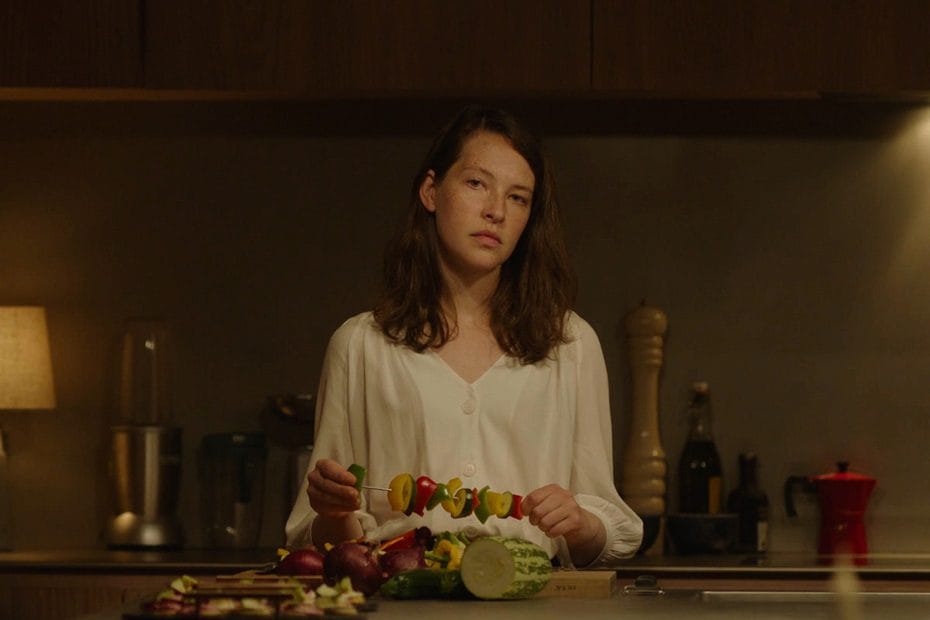 The Feast 2021 Full Movie Trailer
Directed by: Lee Haven Jones (Doctor Who.)
Written By: Roger Williams (Bang.)
Starring: Annes Elwy, Lisa Palfrey, Caroline Berry, Steffan Cennydd, Sion Alun Davies