The Unhealer Movie, Pica Kills In Mysterious Ways
The Unhealer is a bullying revenge horror movie with a special way of working its oddball details. Starring Lance Henriksen as a mean-spirited drunk healing man, opening scenes reminded me of a bunch of different things. The film channels titles like Carrie or All the Boys Love Mandy Lane where powers enable the bullied to get back at their tormenters.
Possessing the craziness of Back to the Futures' Dr. Emmett Brown, Henriksen's Pflueger finds himself on the receiving end of some ancient powers belonging to a Native American tribe. With as much enthusiasm as he can muster, Pflueger simply decides to rake in some cash and heal the locals of their ailments so he can continue to smoke and drink. Over the course of discovery with his newfound power, he finds he also cannot be harmed when a man called Red Elk slaps him and only ends up hurting himself.
The Unhealer Movie
What makes The Unhealer unique in its old school horror film roots is the introduction of local boy Kelly who is constantly picked on by the jocks at school. They nickname him trash boy and like putting him into the bin on a regular basis. That's not new! I hear you say. But the reason they like to do this is that Kelly has Pica, a rare eating disorder, and likes to eat anything that takes his fancy. From stylophone cups to paper, Kelly (Elijah Nelson) is often seen slipping mystery items into his mouth. He lives with his mother Bernice who wants nothing more than to see her son healthy and happy. And that's where Pflueger comes in to save the day.
Directed by Martin Guigi, whose best-rated films are of the romantic movie persuasion, The Unhealer manages to ring in that concept as well. Kelly finds love with Dominique. This in turn helps him uncover some hidden talents combining his Pica and the Native American medicine powers he inherit from Pflueger. When Kelly eats something that belongs to someone else, he can then inflict the reverse pain or in some cases, pleasure onto that person. The story is written by Kevin E. Moore and J. Shawn Harris and it seems there is already a sequel and a third installment is in the works for The Unhealer.
Starring Lance Henriksen of Pumpinhead & Aliens
"The Unhealer" has that horror throwback direct-to-video feel. There is no denying the corny nature of the film overall. However, if you can't appreciate watching Henrikson desecrate Native American burial grounds which in turn gives him superpowers and spouting lines like;
"Reverand Pflueger is my name and healing is my game. I know I look like two box cars bumped together on a road out of a hobos ass but I had a rough night."

Reverand Pflueger quote from The Unhealer star Lance Henriksen.
Then I'm not sure this is the movie for you. For Mother of Movies, The Unhealer was entertaining, fun, and filled with the nostalgia of 1980's horror cult classic movies. Special effects range from gnarly to shady but that probably comes down to budget restraints.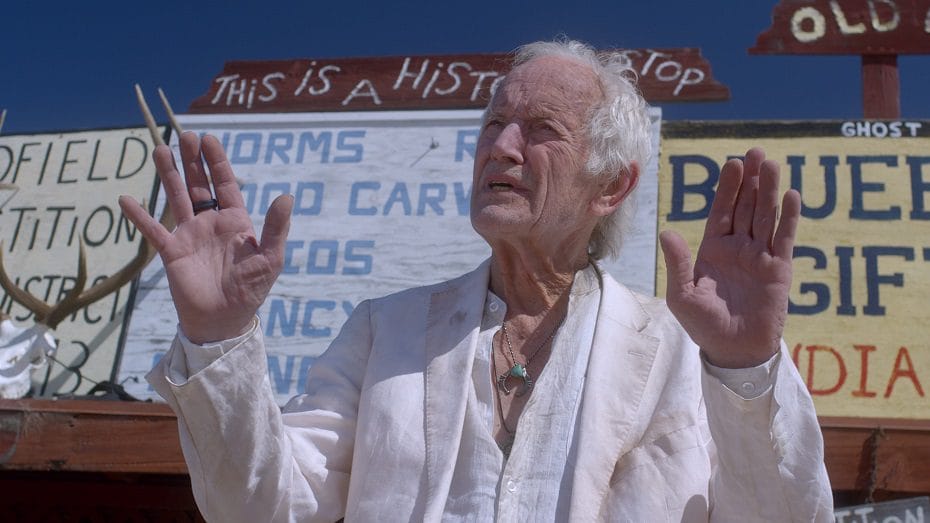 Where Can I Watch The Unhealer?
You can watch The Unhealer on VOD (including Apple TV and Prime Video, Vudu.) See below for links to other places you can watch The Unhealer.
The cast for The Unhealer includes TikTok superstar Elijah Nelson ("Crazy Ex-Girlfriend"), Kayla Carlson ("Why Women Kill,"), Adam Beach (Suicide Squad.) Chris Browning ("Westworld"), Cristi Harris (Night of the Demons 2), and Branscombe Richmond (The Scorpion King,) also star. Together with the big cast names for The Unhealer are Natasha Henstridge (Species,) and Lance Henriksen (Aliens) and both do a great job in their roles.
The Unhealer, A Movie Trailer With a Trailer Park
In addition, The Unhealer is a production of Horror Business Films in association with 7 Ideas, Gard Dog Productions, Sunset Pictures, and Bloodstone Films. Shout! Studios, Scream Factory is handling the distribution.