Reboots and reimaging are a pet-peeve for some film fans. When Mother of Movies posted some news about David Bruckner's V/H/S horror series on our Facebook page yesterday, I knew there would be the odd detractor. For the record, I embrace this kind of thing. Sure, sometimes the result doesn't live up to my expectations. I wasn't a fan of the reboot for Chucky. The updated version of the classic '80s Nightrider series didn't have the same appeal that I remembered and don't even get me started on the remake in 2015 for Poltergeist.
Reboots and Remakes
But, for a variety of reasons I welcome a remake or reimaging of movies and series 99% of the time. I think it works when something is added or taken away to give a story that extra kick. Sometimes it's just nice to see a newer version of something I already liked. I didn't have to wait very long before the naysayers reared up and took a swing at the mere mention of the word reboot. Some cited that it meant there was no originality left in the world or that it was simply lazy. I disagree.
Thankfully, the majority of the people in my online cinema communities feel the same way I do. So if you want the official low-down from Cinepocalypse Productions check out some of the information Mother of Movies got from a press release. Just in case you missed it! They are co-producers for this exciting new reboot of the famed anthology series and I can't wait.
PHILADELPHIA, PA – June 22, 2020 – Ahead of the Cannes virtual film market, the official development has begun the V/H/S horror series. Filmmakers have issued some promises this time and said that it will be darker and more vicious than its 2012 counterpart.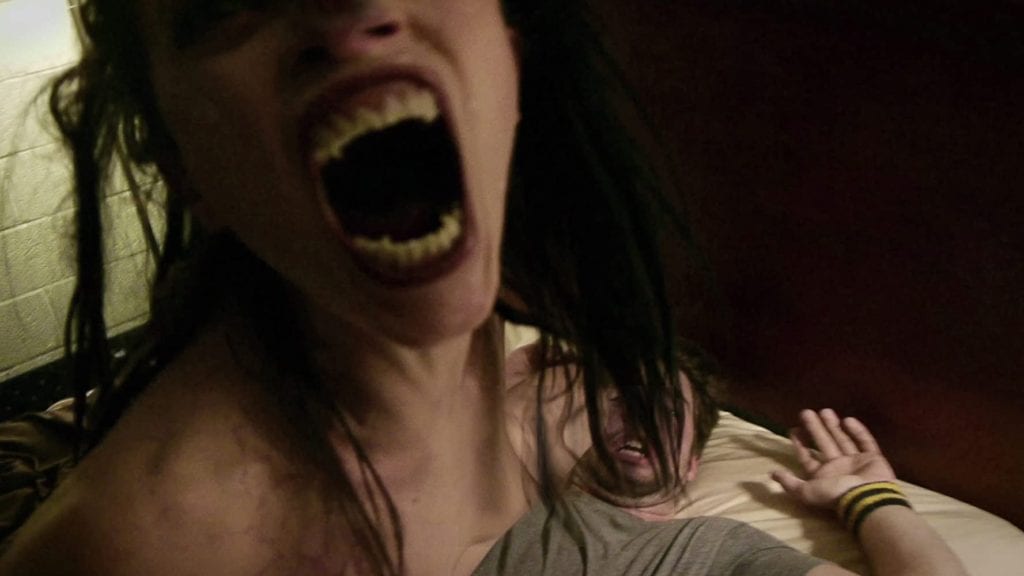 ---
Here's What To Look Forward To V/H/S/94
A single, fluid narrative will bring the voices of a couple of well-known filmmakers to the forefront. This will allow V/H/S/94 to leave its audiences with a lot more to chew on than just a fancier experience than they might have had 8-years ago.
V/H/S/94 will be produced by locals to Philadelphia, Josh Goldbloom, and Parinda Patel. They've just joined the newly formed Cinepocalypse Productions in partnership with Studio71. Not to mention, Bloody Disgusting's Brad Miska, a co-creator of the franchise, and Tom Owen will also be in the mix.
Raven Banner Entertainment is taking care of worldwide sales. Michael Paszt, James Fler and Andrew T Hunt will Executive Produce.
Co-Produced By Cinepocalypse Productions
Cinepocalypse Productions says they are committed to establishing a film fund designed to attract independent genre film productions to Philadelphia. This should help create revenue streams supportive of sustaining the local industry while subsidizing future projects. In times like these, it's important for things like this to happen. The company wants to partner with a number of investments. This in turn will foster an eco-system in the local landscape, while showcasing the world-class city of Philadelphia as a new film production hub. Yay Philly!
David Bruckner Wrote & Developed the Original V/H/S
V/H/S/94 was written and developed by David Bruckner. He will be just one of many names to get the confetti out for when it comes to looking at the project so far. Brucker directed a segment in the original film for V/H/S called Amateur Night. He was also in the news earlier in 2020 for Searchlight Pictures' $12 million purchase The Night House. Subsequently, The Night House was a massive hit at Sundance back in 2012. So when news arrived that Brukner would also lead the march for a Hellraiser remake with Spyglass Media it would be easy to assume, he has a pretty full plate now.
Who's Doing V/H/S/94?
The filmmaking collective, Radio Silence, directors, and executive producers of the horror-comedy Ready or Not and original contributors of the V/H/S franchise, will join V/H/S/94 in a producing role. Radio Silence is a group that includes Matthew Bettinelli-Olpin, Tyler Gillett, and Chad Villella. I for one and champing at the bit waiting for a release date announcement for the newest Scream movie. It began filming in May and is another tick to add for an already impressive catalog from SpyGlass. Scream 5 is going to be a sequel and I want it yesterday, please.

Simon Barrett (V/H/S, V/H/S/2, You're Next, The Guest), and Indonesian horror director Timo Tjahjanto (V/H/S/2, Netflix's The Night Comes For Us and May the Devil Take You) will come together again for V/H/S/94. They will be joined by Chloe Okuno (AFI short, "Slut", Roy Lee's recently announced production, The Watcher).
Ready or Not, You're Next, The Guest, Southbound, The Night Comes for Us Are All Excellent
Producers are currently in talks with additional filmmakers. Mother of Movies will be back if there is any more news to talk about. In the meantime, just get excited. The people working on this one have made some absolutely awesome horror movies. How can you not want to take a peek at that? In fact, just take my money now.