Rob Grant makes interesting and unique films. In the director's chair for his most recent smash hits Harpoon and, Fake Blood, this time, he is joined by writers Chuck McCue, and Jules Vincent, who also produced. After a successful film festival run, the horror and thriller movie will be available in selected US theatres and on streaming platforms from September 18th, 2020.
Mother of Movies was lucky enough to be included for an advanced screening of Alive. The story is one that may begin with a generic backdrop and setting. But, if you've seen any of Grant's previous films you will know not to expect the expected. Subsequently Alive is no different. The story begins in a sanitorium that holds two severely injured captives and a well-spoken eclectic caretaker.
New Horror Movies By Rob Grant – Alive
For horror fans, there is plenty of well placed spatter and gruesomeness to appease. Without losing those that shy away from too much blood and gore, the film chooses not to spend long periods of time abusing your eyes with it and instead opts for short bursts of violence.
In Alive, none of the cast have names. As we get to know them it becomes clear that the caretaker seems to think he is doing our hapless bandaged and banged up victims a big favor. Failure to comply with instructions often leads to some sort of punishment.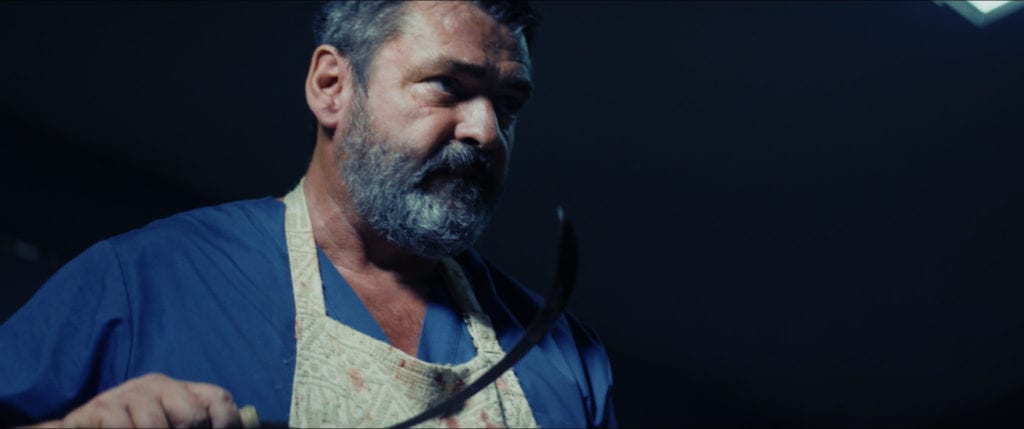 Pacing feels slow as it plods along giving you nothing but questions for quite some time. Why is this man keeping this unnamed pair prisoner? Who are they? Where did they come from? All completely unanswered until the final quarter of the movie.
What this does is makes it extremely hard to review without spoiling but I'll do my very best. I will offer this advice though and, that is to stick with it. As this unlikely pair are more and more eager in their attempt to escape you begin to wonder whether they know each other. Memories begin to spark and when they are finally able to get free of their restraints, some clues are placed in front of you to lead you to certain conclusions.
For those looking to avoid spoilers feel free to watch the trailer below, it gives nothing away. Certainly, Alive isn't absent of flaws but is very much stitched together with entertaining moments. Overall another strong film from The Rob Grant collection.
I give Alive
3.5 the fearless and powerful retold out of 5

"Pain means you're alive"

Quote from Alive by Rob Gran and Cranked Up Films
What's More Perfect for Watching New Horror Than Jelly Shots?
Alive Movie Information and Cast
Alive movie cast: Thomas Cocquerel ("The 100"), Camille Stopps ("Reign") and Angus Macfadyen ("Strange Angel.")
Run time: 1:30:57 (NR / TV-MA.)
Directed by: Rob Grant.
Written by: Chuck McCue, Jules Vincent.
From Cranked Up Films and 775 Media Corp.
---
More horror and thriller movies: Harpoon / Fake Blood / What Keeps You Alive / Depraved / Faceless 2021