Bullets Of Justice Starring Danny Trejo & Mutant Pigs
Mother of Movies does not go for these types of absurd, obscure action and horror films. But who doesn't have a soft spot for Danny Trejo? What's more, how can one resist a movie with mutant pigs donning jetpacks? If you're wondering whether this crazy tongue in cheek story will be too much for you, it kicks off with enough force to let you know pretty quickly. I thought there would be a wait in the lead up to seeing the human-pig people called, Muzzles. But within the first 10-seconds, Rob Justice is face to face with his enemy and it's clear this movie was not going to string me along.
Bullets of Justice stars Danny Trejo as a well established grave digger. His opening lines are towards his disdain for God as he tells a younger Rob Justice to come and see what happens to the dead showing him a skull from the dirt he is standing in. The tone for the narrative is set with his glorious outburst saying;
"See they don't go nowhere, they just turn into dirty old bones. God is a human mistake. We die, coz of some sh** and we die full of sh**"

Grave Digger played by Danny Trejo in Bullets for Justice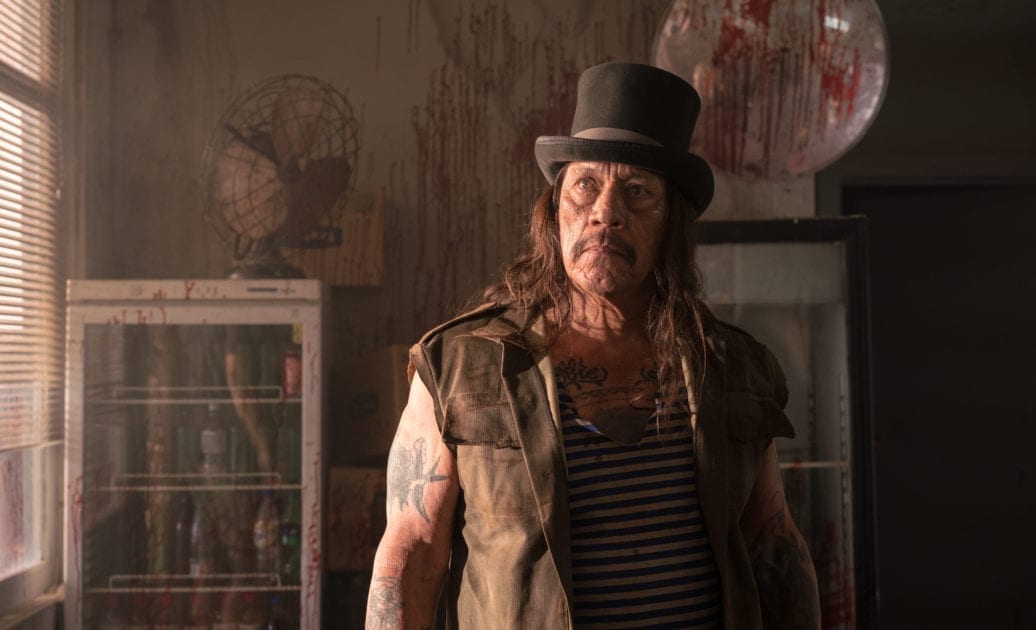 Bullets of Justice, Exploitation Action and Horror Trailer 2020
Horror, Comedy & Action + Mutant Pig People Where There Is No God
It seems 70% of the human race has been obliterated and the American government somehow created a Bacon Army. The half pig, half-human soldiers are now at the top of the food chain eating and farming humans. Any story of this type would be remiss without offering up a group of human resistance liberators. Led by Rob Justice and his small collection of survivors, they live in a nuclear bunker killing the Bacon Army and trying to work out how to stave off the Muzzle's rise to power. The Bacon Army is their official name, I didn't make that up.
Similar to Star War's Jabba the Hut but nothing like it at all, a mother of all Muzzles exists. Somehow a giant sow remained after experiments to quash the Bacon Army failed. She resides somewhere happily popping out new hybrid pig people while the resistance tries to keep up with attacks.
Bullets of Justice handles the cinematography with some totally naff CGI. Somehow badly cropped shots and the inclusion of camerawork usually reserved for TikTok videos and Zoolander all fit together harmoniously. Alongside the cheesy dialogue and outlandish themes, everything combines into some sort of funny, witty, watchable, and riveting film.
For horror lovers that believe comedy has as much right to be in horror movies as pineapples have to be on pizza, the humor comes from a combination of some inane and awful places. I promise you the type of laughter you only hear from time to time from Hyenas. This wheezing laughter will come from you. I'm sorry.
Hilarious dubbing, a robot in the form of an old guy with a mustache and running jokes that just get funnier, I couldn't get over just how much I enjoyed this.
When You Need A Robot, Cast It With Some Old Guy With A Moustache
I wasn't particularly a fan of some of the more absurd visuals such as a deformed Muzzle taken prisoner who gets tortured via the butt on his face, but you can't win them all.
Timur Turisbekov's performance empowering Rob Justice to wade through the insanity was brilliant. I wanted to watch more of his work, but there isn't any. He's great.
Those who love shocking, violent left-field stories will definitely get a kick out of Bullets of Justice. It teeters between silly and serious with just the right amount of enthusiasm and I spent most of the 79 minutes with my hand over my mouth from the constant surprises it doles out and to stifle my raucous fits of giggles.
Overall, this will never be a high-brow cinematic extravaganza to recommend to more discerning tastes but I liked it. Plus I thought I had discerning taste.
I give Bullets of Justice
3.5 Bendict A**holes out of 5

Often the term "so bad it's good" is bandied about. Until you find a film that fits that descriptor for you, it's hard to understand. Velocipastor is another film I enjoyed this year. Despite the momentary gross-out displays of things I didn't really enjoy, the good stuff in this insanely good horror movie is for those that like intelligent themes hidden inside stupid.
Who Made Bullets of Justice + Cast & Release?
Distributed by The Horror Collective and repped by JupiterLights Entertainment.
Digital/VOD platforms release from the 15th October 2020
Starring Danny Trejo ("Machete", "From Dusk Til Dawn"), Timur Turisbekov, Yana Marinova, Dessy Slavova, Doroteya Toleva, and Ester Chardaklieva.
Directed by Valeri Milev ("Wrong Turn 6″).
Written by Milev and Timur Turisbekov.
BULLETS OF JUSTICE finished its festival run in 2020 which included its World Premiere at FrightFest. It also played at SITGES Film Festival, Hexploitation Film Festival, Obscura Film Festival Berlin, and Morbido Film Fest.
---