Never meet your heroes is one of Mother of Movies' favorite sayings. Everyone has someone they idolize. Someone who often you have never met that just seems to be inspirational, even god-like, to look up to. Slaxx takes this idea and many more thought-provoking themes and shoves them into a horror movie about killer pants. And it's a bloody one at that, running for just 77-minutes, this memorable crazy film is short and sharp. Slaxx is about the next season's catalog item for a large highly sought-after clothing store, Canadian Cotton Clothiers (CCC). The chain is supposedly ethical, against child labor, and GMO-free. Something to get behind if you believe in human rights in the making and distribution of clothing.
CCC is exactly where Libby (Romane Denis) has always wanted to work. She loves the brand for what they stand for and eagerly begins her new employment journey right before the "Monday Madness" coveted event is about to unveil the holy grail of jeans. Super shaper jeans that mold to every body type. Gender-neutral body enhancing jeans that promise to make anyone look the best they can possibly be.
An Ass To Die For
The carnage starts early on as staff prepare to stay overnight in the CCC store to prepare. A well loved internet influencer is invited to move the penchant for purchase along. Management rivalry rears its ugly head. All this happens as a possessed pair of jeans begins to maime, mangle and disfigure anyone who dares try the newest fashion trend on.
The story moves along quickly enough to not roll your eyes too many times at the absurdity of the storyline. The on-screen kills are furnished with convincingly effective CGI that it doesn't become laughable. The killer jeans' motives are uncovered through the most unlikely and silly plot twists I have come across in a while. However, the story arc that explains it all is a carefully thought-out dialogue about ethics, corporate culture, and the pure and utter greed of big corporations.
Overall, Slaxx is fun. It's also cliche, weird, and laden with head-thumping morality. But this horror movie is well made, well-performed, and vapid in all the right places.
I give Slaxx
3.5 Hide this dead body for bonus pay out of 5

Slaxx Release Infor, Casting and Production
SLAXX releases as a Shudder Original movie on March 18th (US, UK, Ireland, Australia, and New Zealand.) The film was acquired by Mother of Movies as a screener for review purposes.
Starring Romane Denis (Slut in a Good Way), Brett Donahue (Private Eyes), Sehar Bhojani (The Handmaid's Tale), and Stephen Bogaert (The Umbrella Academy).
The third feature from Canadian director Elza Kephart (Go In The Wilderness, Graveyard Alive),
Co-written by Kephart and Patricia Gomez (Graveyard Alive),
SLAXX is produced by EMAFilms and Horror Collective production.
The special effects company behind Turbo Kid, Blood Quantum, and Ravenous, Blood Brothers FX, turned Slaxx into the cult classic killer jean horror movie it will be.
Canadian sustainable and premium denim brand Naked & Famous are responsible for the design and look of the jeans seen in the Slaxx movie. Strangely, I would buy them.
More titles with or without killer pants: The Clovehitch killer / Happily 2021 trailer / Slasher TV Series returns
Killer Pants, What Else Can Kill You?
Horror is no stranger to films about inanimate objects embarking on a killing spree. Here are some of the best inanimate rampages in horror history:
In Fabric,
Death Bed,
Christine,
Battle Heater (Electric Kotatsu Horror)
Killer Sofa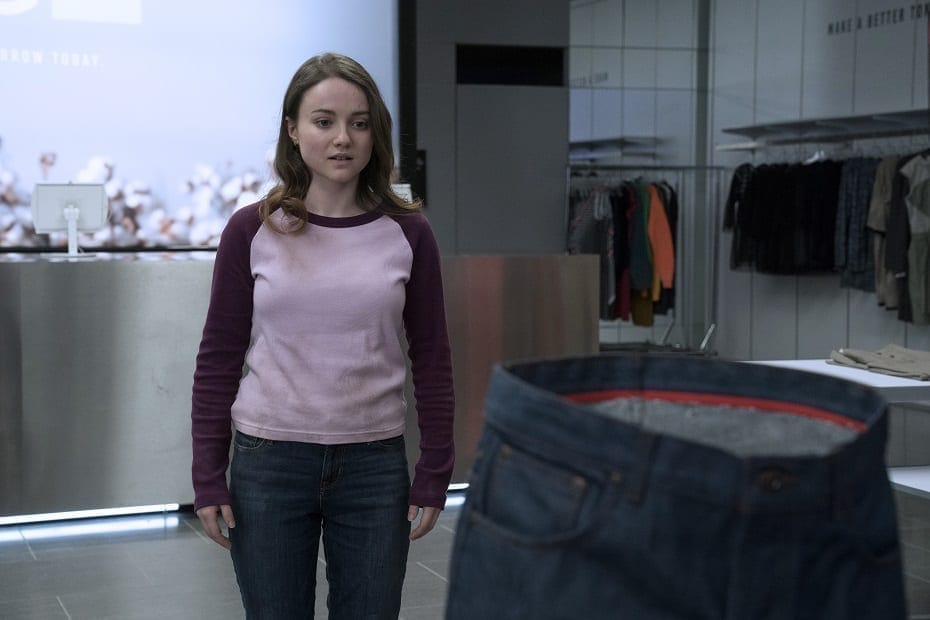 Slaxx Official Trailer for the Shudder Release (Killer Pants)