Motherly, Home Invasion Thriller
Motherly looked like a promising new revenge thriller with a pretty solid cast, from distributors The Horror Collective. The film is set up as a home invasion gone wrong. A mother and her 9-year old daughter are set upon by a married couple who have come to settle a score. You can watch Motherly now on Demand and digital. Its premiere was on November 16th, 2021.
There is plenty to like about Motherly. The story plays to the tune of a mother left to figure things out after her husband is put behind bars. When news of his suicide surfaces, Kate can't bring herself to tell her daughter Beth. Instead, she looks for solace in the arms of the local detective who delivered the message. Craig David Wallace, the director, has done some excellent work previously. He helmed 8-episodes of the horror series Slasher in 2016. Nonetheless, Motherly is predictable. In addition, despite leaving the big reveal to the very end, frames a loose picture of how everything came about.
The characters all mesh together cohesively and what I liked about the dynamic ends up thrown under the proverbial bus when the pieces finally get put together. I'm not going to spoil Motherly for anyone. I have included a sealed spoiler section after the rating explaining the ending of Motherly.
The pacing is tight and the run time is a perfect fit. Everything moves forwards without too much banter or unused space. Effects are also convincingly laid out. Motherly dips its broken and bloodied fingers into the horror arena with a few graphic scenes depicting torture and of course, some stabbing.
Motherly is Inspired by Real Events
Generally though, Motherly is a high-end thriller. Even an interesting backstory inspired the movie based on a true story. The real-life tale of Paul Bernardo and Karla Homolka is where writers Ian Malone and Craig David Wallace drew from. According to the story, Bernado and Homolka were two Canadian serial killers. Although circumstances are a little different from the film, the feelings of those affected by crimes that go unpunished enough are brought to the surface in Motherly. Alongside how far a devoted parent will go to protect their own children, the horror and thriller film does aspire to themes of this nature.
I give Motherly
3 tragically predictable outcomes out of 5

What Happened at the End of MOTHERLY?

Similar to a The Simpsons episode where the goal was to find out who killed MR Burns, Motherly eventually reveals that daughter Beth did it. We are given only a very brief visual of Beths' inherent murderous ways. Firstly, when Hal gives Beth a Barbie doll, we watch her pull it apart in frustration. Another clue is her behavior towards the mother in obtaining her phone and lying about it however this wouldn't automatically indicate she is capable of going on a killing spree.

Why Did Beth Do It?

What ends up being revealed in the final moments of Motherly's ending is that Kate and her husband Brad covered up the fact she killed Mary's daughter. Mary's daughter and Beth were playing hide and seek and Beth took a kitchen knife and stabbed her. Beth's father Brad took the fall, went to prison, and eventually killed himself to cover this up. Kate went on to further still, cover up Beth's crime by telling Mary she in fact killed her daughter. Kate kills Hall trying to stop him from hearing her confession after also killing Lewis who was going to kill her.

Beth stabs Mary with a pitchfork. Beth's mother intends to go to prison for her daughter but dies as well. In the final moments, Beth is seen covered in blood, carrying a knife, and being picked up by a hapless stranger. It's alluded that Beth simply likes killing people and there is no rhyme or reason for this.
Motherly Official Thriller Movie Trailer
Social Tag:  #MotherlyMovie Instagram: @MotherlyMovie Twitter: @MotherlyMovie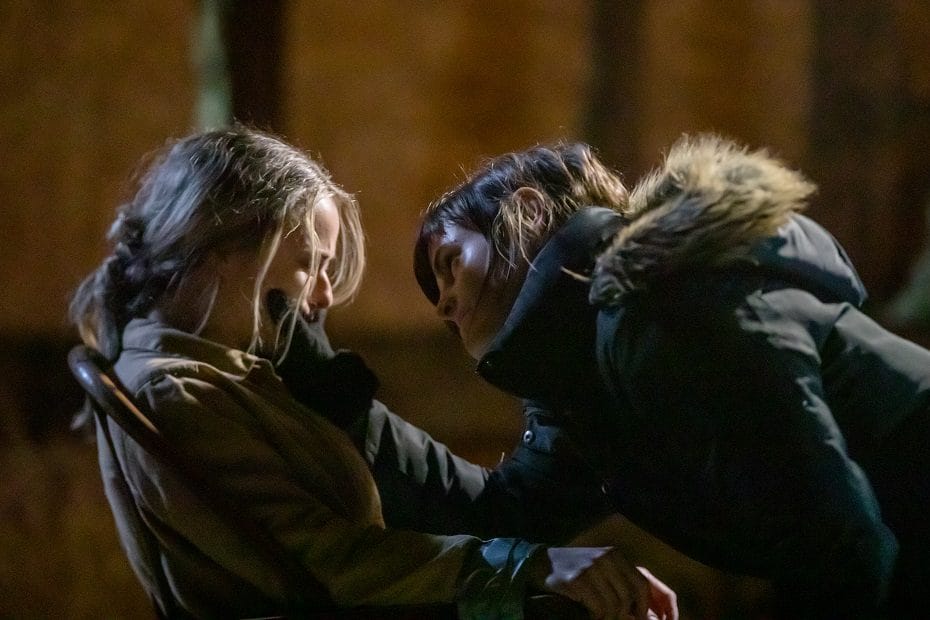 Director: Craig David Wallace Writers: Ian Malone, Craig David Wallace.
Cast: Lora Burke (For The Sake Of Vicious), Tessa Kozma (A Christmas Carousel), Kristen MacCulloch (Psycho Goreman), and Nick Smyth (Flashpoint)