Random Acts of Violence is written and directed by Jay Baruchel alongside co-writer Jesse Chabot. Looking at both Baruchel and Chabot's previous works it's hard to work out how they came up with something like this. Of course, there are many ideas smushed inside the storyline, and Random Acts of Violence is one film that tries to give you more.
For almost the past 200 years, the term violence begets violence has been rhetoric that explains that one act does not remedy itself if met with a similar act. A cycle, if you will, that goes round and round. Similarly, a debate that has been prevalent in the past few decades, asks the question about whether violent horror movies simply promote more of the same.
Typical slasher films aren't generally known to make you think about whether life can imitate art and vice versa. Have horror films become the playground for voyeurs of cruelty and nihilistic behavior? Is the horror niche filled with stories that are simply not aimed to scare you in a traditional sense of the word?
Random Acts of Violence Storyline
And so, Random Acts of Violence plays out in the stereotypical road trip setting. Todd (played by Jesse Williams) is a comic book creator. His graphic novels are based on a serial killer known for his creative and callous murders stemming from the Interstate 90 Highway. Todd wants to finish the story but doesn't quite know how to end it.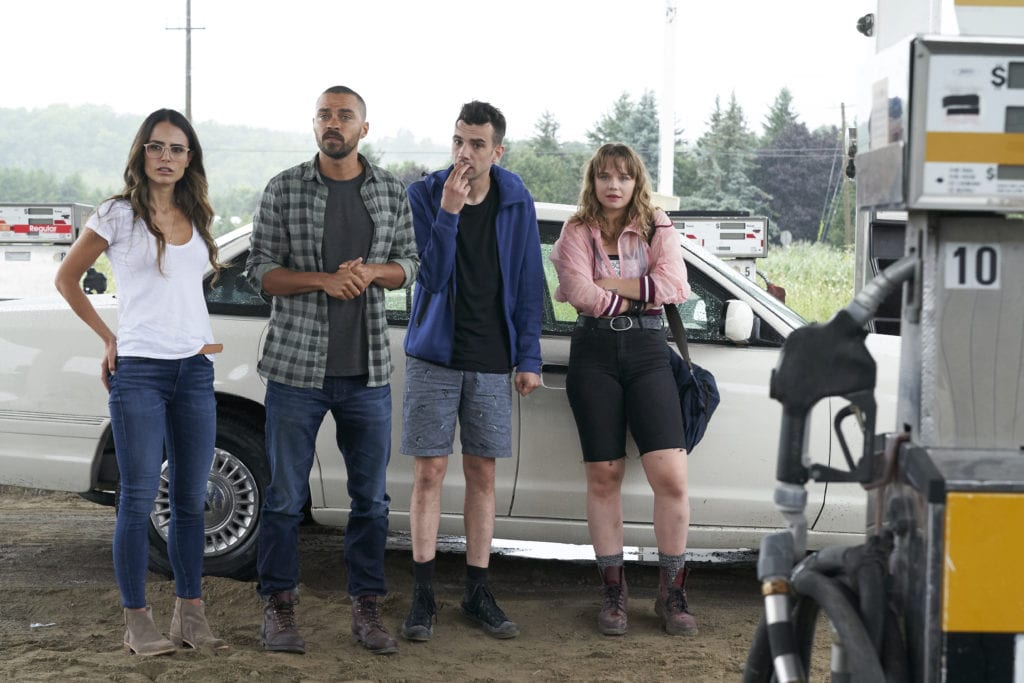 In the director's statement, Baruchel talks about wanting to make a movie where you want the core characters to survive. He stresses the audience is supposed to care about these people. And so, Todd has a wife Kathy who comes along to interview people in the town where the murders took place. Todd's best friend is comic bookstore owner Ezra, whose assistant Aurora makes up the fourth person in the group. First and foremost, the dynamic between these people was not something that screamed for an abundance of care-factor. In fact, my main gripe with this story first of all was because of the disconnect I felt with this very group of characters. I did like Todd but I often wished he had embarked on the inspiration tour on his own.
Generic and Predictable While Making a Statement
But therein lies the conundrum. For all intents and purposes, Random Acts of Violence is a generic predictable slasher movie. But at the same time, it maintains to be none of these things. It comes complete with over-the-top unwilling to help themselves fodder who are murdered in deliberate and gruesome slasher fashion. There is nothing newly innovative about a highway serial killer who wears a mask. Neither is there anything gripping about a guy who returns to his home town where he then discovers a connection to something he thought he'd forgotten. So, with regards to the aim of making a film that's scary, it didn't really do that. And I'm someone who's fairly reliable when it comes to leaving lights on in my home.
Random Acts of Violence pits the fans of killers against the victims of crime. It also adds to what a writer's responsibility is then supposed to account for. The film itself asks so many questions while never really providing an answer to either fight for or against.
The cinematography is nice. There are red and green colors used throughout to represent the fact the original killings took place at Christmas. There are flashbacks of some of the murders, sketches, and cryptic phone calls to lure Todd into thinking he can change the outcome of what he discovers. The score is a throbby base that suited the aesthetic and was enjoyable to listen to.
Is Random Acts of Violence interesting? Sure. But it's certainly no Cabin in the Woods or Final Girls or Scream franchise which says a lot of the same things but much, much better.
Watch it, but know that its going to be a love hate relationship.
I give Random Acts of Violence
3 people killing the world out of 5
Trailer and Release Date
The Random Acts of Violence film will drop on the Shudder platform from the 20th August 2020 in the USA and UK, Australia, and New Zealand. Yes, you saw that right, Shudder is now available in Australia.
Produced & Distributed by Elevation Pictures.
Cast of Random Acts of Violence:
Todd – Jesse Williams (Cabin in the Woods, Jacobs Ladder.)
Kathy – Jordana Brewster (Texas Chainsaw Massacre, Fast & the Furious)
Ezra – Jay Baruchel (How to Train Your Dragon, Being Human)
The Man – Simon Northwood (Shazam!, Code 8)
Aurora – Niamh Wilson (Saw III, Between)
---
More slasher movies: Midnight Meat Train / Never Hike Alone / Truth or Dare / Wrong Turn 2021 / A Nightmare on Elm Street
"I like old school shit used in a new school context. Dolly tracks and Steadicams, artful lighting, vivid colors, staging, and in-camera techniques that for whatever reason have become largely forgotten in the digital age. Ours is a beautiful, truthful film. It's as entertaining as it is disturbing; a violent, Neo-Gothic love story about artistic responsibility and the cultural ill of legitimizing misogynistic violence. Told through the lens of Generation Y kids that came of age enjoying art made by Generation X."

Writer-director Jay Baruchel